A joyful tonic for the pandemic-weary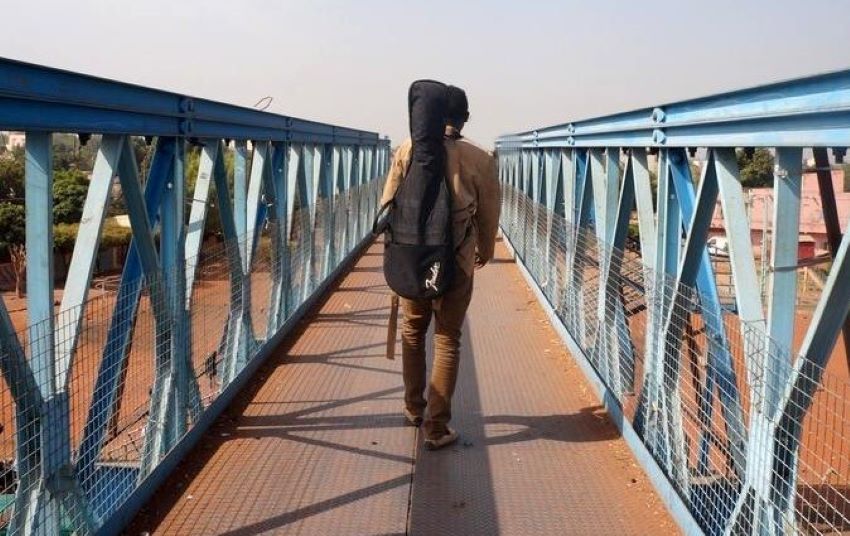 Ever since 2012, when a Kel Tamasheq uprising was hijacked by extremist groups, Mali has been beset by violence, with musicians being particularly targeted. In 2018, as Cisse and his band were on their way to perform at a peace and reconciliation concert, they were waylaid by armed raiders who beat them, destroyed their instruments and kidnapped them.
For a while, this experience left him feeling like there was no point in making music. Cisse turned his back on performing and creating music, retreating into the studio instead to help new and emerging hip-hop artists produce their songs. However, the birth of his first child prompted him to pick up the threads of his own career again and he began work on Anoura.
This new album also indicates a change of direction in his lyrical content. Instead of merely focusing on the political situation in Mali, Cisse has chosen to write about his life in the present moment. Now this doesn't mean he's writing silly love songs for his child or in praise of domestic bliss. However, he is seeing the world through the lens of someone who wants a better world for his child. Unsurprisingly, therefore, he sings about the pressing social issues of the times.
For the future, for the children
In songs like "Talka" ('poverty') and "Tiawo" ('education'), Cisse emphasises how children in Mali need to be given as much opportunity to succeed as possible. Education is a route out of poverty, one that he hopes will help to reduce violence in his home in Northern Mali.
In a country where insurrectionists use large groups of disaffected young men – men with no money and no prospects – as their recruiting base, education and a path out of poverty are powerful tools towards creating a safer environment. Cisse's focus on them displays a vision and awareness unusual in most musicians; but then again Mali isn't your usual place to create music.
Musically, Cisse is the archetypal 'Desert Blues' musician. The problem with that designation is that it is used to define some widely different types of music.
First, there's the Kel Tamasheq style, as exemplified most famously by Tinariwen, which typically consists of trance-inducing rhythms, punctuated by blistering electric guitar solos. Cisse's music, on the other hand, is more along the lines of the great Ali Farka Toure.
While equally steeped in the musical traditions of the region, his sound is more rhythmically complex and involved. He also incorporates instruments like the ngoni and the soku, a single-string violin. Although the soku only appears on two tracks in this album, "Balkissa" and "Talka", its significance extends beyond the music per se. These two tracks represent the last recordings of soku maestro and Cisse's close friend Zoumana Tereta.
Intricate musical weaves
At first sound, the soku is almost reminiscent of an electric piano, not so much because of its timbre, but because of the way it blends into the music. Gradually you become aware that it is a bowed instrument and you're struck by both the simplicity of its sound and the amazing depth it adds to the music.
Hearing it weave in and out among the guitar, drums and bass is like hearing the past and present of the music being pulled together. As if the resonance of the soku is an echo of the past, infusing the present with history and tradition.
Like so much of the great music from Mali, Cisse's walks a fine line, honouring tradition and continuing to look towards the future, while never being too beholden to either. Indeed, Anoura is a beautiful amalgamation of both. Cisse, like most of his contemporaries, achieves this blend through both his music and his lyrical content.
Alongside the previously mentioned ngoni and soku, his band also incorporates traditional rhythm instruments like calabash. Somehow, they perform the alchemy necessary to pair them with the popular music ensemble of guitar, bass, drums, and keyboards to create a harmonious and intriguing sound.
When it comes to the lyrics, Cisse has chosen to sing in his ancestral Songhai language. Yet his subject matter reflects the respect he feels for both his heritage and present-day Mali. That musicians are curators of their people's stories is nothing new in this region: in songs like "Cisse", "Tiara", and "Foussa Foussa", Cisse is recounting history.
Joy outweighs the sadness
The first, as might be guessed, is a history of his family line who were marabouts – religious teachers – from Northern Mali. The second two are sung as conversations with his daughter, explaining traditional festivities for young people he remembers as a child. Celebrations, which in the current climate in Mali – a pandemic, coupled with endemic violence – have fallen by the wayside.
While not being able to understand the language means we can't know the actual message of the words Cisse sings, such is the skill of his musicianship that we can feel the emotions he is expressing. For while there is an understandable joy at the celebration of his daughter's birth, we also hear an undercurrent of sadness for the current state of affairs in Mali.
Considering Cisse started work on this album in 2017 and then stopped following the ambush on the band in 2018, it seems remarkable that Anoura is so uplifting and positive in its tone and feel. This last year has been hard on all of us. To hear a man who has been through so much, from a country so far from our own, bring us a message of hope is a wonder and a joy. If you, like most of us, need a lift, Anoura could be just the tonic you require.
Richard Marcus
© Qantara.de 2021