"Secular in My Head, Muslim in My Heart"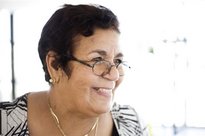 ​​ The bathhouse of the women's organization Solidarité Féminine is located in the city centre of Casablanca, a modern hamam with hairdressing salon and fitness studio. Twenty-year-old Nawal, an employee who takes us on a tour of the establishment, was not always as confident as she appears today. When she fell pregnant three years ago at the age of 17, just before she was about to take her school-leaving exams, her world fell apart.
"When people find out that you have a child and you're not married, then they don't accept you. It's regarded as a huge disgrace in Morocco."
Help for the Defenceless
The father of the child refused to accept any responsibility and ended the relationship. But Nawal opted to keep the child nevertheless. She had to face the consequences of her decision alone, and had to leave school. Because Moroccan law basically views sex outside marriage as prostitution, and therefore as a punishable offense, she also faced the threat of six months in jail.
But Nawal found the help she needed.
"I went to the sisters of Mother Teresa in Casablanca first. It was there that I heard about the Solidarité Féminine association."
​​ Through their contacts to the authorities, social workers at Solidarité Féminine made sure that Nawal would not have to serve a prison sentence. They also helped the student to find an apartment. Following the birth of the child and a trial period, Nawal was also offered the opportunity to pursue a two-year traineeship in home economics.
Nawal is now 20 years old, and she is due to complete her training in just a few months. Her two-and-a-half-year-old child – a beautiful, alert little boy – is taken care of at Solidarité Féminine, in the organization's own kindergarten.
Campaign against hypocrisy
It is success stories such as this that gave her the courage to continue, says Aicha Chenna, chairwoman of Solidarité Féminine. The qualified nurse founded the association in 1985, as the first organization for single mothers in the Islamic world. At that point, the stimulus came from her work at the Moroccan social ministry. It was there that Aicha Chenna came into almost daily contact with women who gave their children up for adoption. Many of them had suffered rape or sexual abuse.
"The unmarried mothers are often the youngest daughters of poor families from the country. They are sold by their families at the age of seven or eight to work as maidservants in city households," explains Chenna.
"They can neither read, nor write, and have no idea about sexuality. These girls are often harassed as they go about their work, and even raped. Or they fall for men who promise them the world. If they get pregnant, they are then rejected by society. I found this hypocrisy unbearable."
​​ Aicha Chenna and her supporters wanted to make it possible for the young mothers to keep their children and lead an independent life. They did this by focusing on the strengths of the affected women – their knowledge of cooking and running a household.
In 1986, Solidarité Féminine opened a cook shop in a working-class district of Casablanca, to first in Morocco to be run exclusively by single mothers. Numerous other income-generating projects were set up in the years that followed.
Reform of family and marital status law
The initiative received praise, but also criticism. Conservative forces maintained that Solidarité Féminine would encourage prostitution and destroy Islam. At Friday prayers, speakers in mosques issued public threats. But Aicha Chenna refused to be intimidated.
An important endorsement of her work was the reform of the Moroccan family and marital status law in the year 2004. Now, Moroccan courts can order paternity tests. Unmarried couples that conceive a child can get engaged afterwards thereby avoiding punishment. Unmarried mothers with no partner do not however benefit from this law.
"Engagement is a mutual agreement. But that does not apply to all women," explains Chenna. "And this is the problem: the others are still regarded as prostitutes. They can still expect to end up in prison for up to six months."
A modern, value-driven liberal Islam
Aicha Chenna, who completed the Hajj pilgrimage to Mecca many years ago, and whose friends call her "Hajja", embodies a modern, liberal Islam. Her personal motto is "secular in my head, and Muslim in my heart".
That Solidarité Féminine has now received the highly remunerative Opus Prize for decades of often very hard pioneering work, is a great encouragement not only to the 68-year-old founder, her staff and to all single mothers in Morocco. The honour also sends out an important signal against all forms of religiously motivated intolerance.
Martina Sabra
© Deutsche Welle / Qantara.de 2009
Translated from the German by Nina Coon
Qantara.de
Elisabeth Norgall Award for Aicha Chenna
A Muslim Heart with a Secular Mind
Twenty years ago, Aicha Chenna founded the self-help organization "Solidarité Féminine" to assist single mothers and their children. She recently received the Elisabeth Norgall Award 2005 in Frankfurt for her work. Martina Sabra visited Aicha Chenna in Casablanca
Marrakesh Elects Its First Woman Mayor
Equal Rights and a Change of Generation
Last summer saw the election of the 33-year-old Fatima Azzahra al-Mansouri as the first woman mayor of the city of Marrakesh in the south of Morocco. As Alfred Hackensberger reports, she won the vote in spite of the warnings of conservative politicians
Women's Rights in Morocco
New Family Code Faces Many Hurdles
In Morocco many women's rights organizations are pointing to great difficulties in implementing the new family code. Reasons include the vague legal requirements and the government's inadequate information policy. By Beat Stauffer
www