Nothing short of scandalous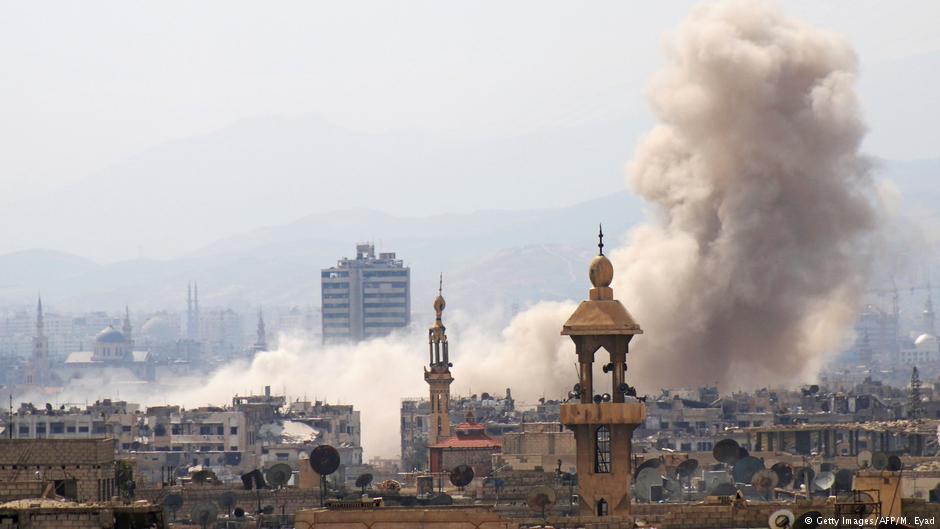 The 6th anniversary of the Syrian revolution has come and gone. The war which started as a civil uprising for freedom and people′s rights has now raged longer than the Second World War and destroyed the dreams of the very freedom and human rights the Syrian protesters hoped to achieve for their country.
Today, despite the ongoing brutality on the ground, Russia seems to begin to see that after years of war, peace must be made or Syria will be left destroyed and forever vulnerable to the very jihadism and instability that Russia fears in its neighbourhood.
But Russia on its own lacks the resources to fix what it has broken. Also, it has thus far lacked the will to bring pressure to bear on Assad or their mutual partner Iran to think about ways out of the Syrian war. On the contrary, Assad is set on a military solution and Russia has done little to promote inclusive political transition.
Russia is now increasingly seeing that it will need the support of European states if Syria is to be rebuilt.
European impotence
The recent negotiations in Geneva have once again failed to result in a significant breakthrough for a credible peace process for Syria. And with every such failure, airstrikes continue, casualties mount, communities are increasingly suffering forced displacement and hundreds of thousands Syrian civilians remain besieged, with the UN and its humanitarian partners continuously denied access to reach those in dire need.
The absence of a coherent plan for Syria by European powers is a scandal. The most horrific war of our generation carries on right next to Europe′s borders, while key European states seem to have accepted that all they are able to do in the face of Russian dominance in Syria is to continuously condemn and watch in horror. The resulting refugee crisis has empowered demagogues across the continent.  
And yet the European response has been limited to token gestures. There have been tactics but no strategy – and so we watch helplessly as the crisis continues.
The time to rely on the US in Syria, if there ever even was one, is certainly now over. With the US administration increasingly showing its unpredictability and instability, not to mention its shutting its borders to desperate Syrian refugees, European states need to show leadership and be a beacon of solidarity with the Syrian people. Europe needs to align on a common position for the future of Syria and a plan for its realisation.
Investment in a durable peace
The capacity of us European states to provide reconstruction funding, to be discussed at the upcoming Brussels conference on 5 April, gives us immense leverage to participate in the creation of tomorrow′s Syria – if we manage to speak with a united voice.
We must make sure that with our funding we invest in a durable peace. Reconstruction is a huge incentive for Russia to finally co-operate on Syria; but we need to be careful that the peace deal is in the interest of all Syrians. Our conditions must thus include:
1. First and foremost, immediate access for humanitarian aid to all Syrians in need, no matter where they live;
2. A lasting ceasefire;
3. An end to stranglehold sieges;
4. Access to detention facilities for independent monitors;
5. A transition deal with a credible mechanism to guarantee that it is implemented, with no room for back-sliding;
6. Reconstruction for the entire country.
To offer reconstruction funding is not the strongest leverage we could wish for – but it is a lever that we need to use in order to help the Syrian people to get peace and to help rebuild their country in an inclusive manner.
On behalf of all Syrians
It is also important that we make sure that the United Nations acts on behalf of all Syrian people. The United Nations Development Programme (UNDP) is currently already engaging in reconstruction programmes with the Syrian regime. That is good and helps many suffering people.
And even though I am convinced that those efforts are made in good faith and along the UN′s principles of independence, neutrality and impartiality, I also hold that the regime is the wrong partner for reconstruction for all Syrians, no matter in which areas they happen or once happened to live.
The Assad regime is not impartial and does not act on behalf of all Syrians. On the contrary, it seems clear that Assad′s reconstruction plans are guided by his interest to change the demographic structures in destroyed areas to favour his rule, thereby cementing his power for the future.
His intention is certainly not to build homes and a future for all Syrians, but rather building support and legitimacy for himself. It is therefore even more crucial that European states support the UN in reconstruction efforts and become a reliable partner and funder which at the same time upholds strong principles and conditions in order to help each and every Syrian in need to reconstruct a home, a life and a future in their war-torn country.
Five times already we have passed an anniversary of this conflict and five times already we have said that the violence must stop, that the Syrian people deserve peace, safety and democracy. And yet, civilians have carried on being starved, bombs have carried on falling.
The European Union is already suffering the fallout as Syria and the international norms and rules which we thought could save it are disintegrating around us. This should be enough to convince even the still hesitant, discouraged and disillusioned people in Europe to unite and finally act. Or will it really take an even greater catastrophe and another shameful anniversary?
Omid Nouripour
© Omid Nouripour 2017
The author is foreign policy spokesman for Germany′s Green parliamentary group. This article first appeared in the German ′Tagesspiegel′.