Electoral Poker in Tehran
"In the name of God… let's go!" As Faezeh Hashemi Rafsanjani told a journalist at the Tehran newspaper Shargh, these are the words that her father uttered as he left his office after a short telephone conversation to register his candidacy for the presidency shortly before the deadline.
After a long period of tactical manoeuvring, political veteran Rafsanjani's decision injects new dynamism into the race for the post of successor to President Mahmoud Ahmadinejad. While the broad field of aspirants has thus far been dominated by a regime cadre of varying conservative hues, we can now expect the campaign to be more strongly polarized.
The vote on 14 June is still feeling the effects of the last presidential poll. In the summer of 2009, protests against vote manipulation and the violent crushing of these rallies plunged the Islamic Republic into one of its deepest crises since it was founded.
Controlled elections
Revolutionary Leader Ali Khamenei has been pursuing a carefully controlled poll aimed at stabilizing the regime and after the volatile Ahmadinejad, bringing a more obedient president to office.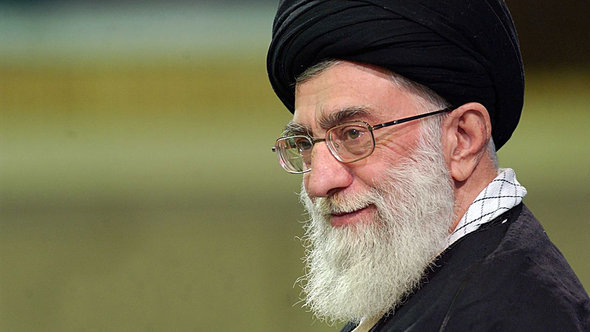 ​​But the conservatives, plagued as they were by private feuds and power ambitions, did not succeed in nominating their preferred unity candidate. All three of the Khamenei followers entrusted with this task – ex-foreign minister Ali Akbar Velayati, parliamentary deputy Hadad Adel and the Mayor of Tehran Baqer Qalibaf – ended up registering to stand for election themselves. There are also applications from more than 30 known politicians.
It is possible that the Revolutionary Leader's favour may now be switched to newcomer Saeed Jalili. The Secretary of the National Security Council and chief nuclear negotiator may not have any government experience. But he is emphasizing his diplomatic expertise and direct experience on the frontline of the war against Iraq (1980–1988). He is evidently trying to position himself as a candidate for the Revolutionary Guard, which has not yet expressed any preferences.
For his part, Ahmadinejad has no intention of stepping down without a fight. As expected, the outgoing president has placed his confidant Esfandiar Mashaei on the field, a candidate fiercely rejected by the conservative establishment for his nationalist, anti-clergy tirades. It is therefore questionable whether the Council of Guardians entrusted with supervising the poll will authorize his candidacy.
In his usual vainglorious style, Ahmadinejad has indicated that he might respond to such a disqualification by going public with compromising information about high-ranking government representatives. As the interior ministry, which answers to him, is responsible for conducting the poll, it appears to Iranian observers that interference in the electoral process or even a complete blockade is not an absurd prospect.
Hopes pinned on Rafsanjani
In the reformist camp, ex-president Mohammad Khatami resisted pressure from his supporters to stand for election again.
​​As sponsor of a political movement, the most important representatives of which are still in detention or under house arrest, he saw little sense in such a direct confrontation. The reformers and many supporters of the "Green Movement" will now throw their weight behind Rafsanjani.
They are relying on him to stem the power of hardliners around Khamenei and usher in a cautious opening up of the regime. With growing intensification, this could mean that the electoral campaign could trigger a mobilization comparable to that which occurred four years ago.
But Rafsanjani must nevertheless ensure that his supporters do not express any statements that are critical of the system. Since he expressed sympathy for the protest movement in July 2009, the erstwhile Khomeini confidant who has held all the top positions in the Islamic Republic has had to accept considerable loss of influence.
With a renewed candidacy, 78-year-old Hashemi Rafsanjani evidently aims to resurrect his mythical status as the state's second most powerful man and defend his political legacy. Underlining his many long years of experience, he will now present himself as the only man able to lead the nation out of international isolation and prolonged economic crisis. In doing this, he can count on the support of many traditional conservatives and the Shiite clergy.
"Amber light" from the Supreme Leader
Rafsanjani has stressed that he will not stand without the Supreme Leader's approval, but it is still unclear whether he has in fact received this. With an open blockade of his old rival, Khamenei would in any case quickly extinguish what little interest there is among voters for the poll.
​​But a high voter turnout is also important for him, because it would boost his legitimacy. If it is true that Rafsanjani received a last-minute telephone call from the Supreme Leader, then this call was to communicate an "amber light" for his plans.
But the hardliners have already shown in the last elections just how far they are prepared to go to hold on to power. In strikingly sharp tones, Minister of Intelligence and National Security Heydar Moslehi recently described Rafsanjani as a member of the "conspiracy" of 2009. With reference to the spontaneous demonstration of several hundred Rafsanjani supporters at his registration, Khamenei's foreign policy adviser Velayati warned against a repeat of events.
The next stage in this game of power poker is the authorization of candidates by the Council of Guardians until 23 May. As well as shaping up as a final duel between the two longest-serving politicians in the Islamic Republic, the presidential elections are already promising to be a directional decision with an open outcome. There are turbulent times ahead for Tehran.
Marcus Michaelsen
© Qantara.de 2013
Translated from the German by Nina Coon
Editor: Lewis Gropp/Qantara.de