Survivors mourn lost loved ones following Hamas terror attack
Aron Troen can hardly speak, overwhelmed by an indescribable sense of loss and shock. His sister and brother-in-law were killed on Saturday morning when Hamas militants launched their surprise, large-scale attack from Gaza and infiltrated more than 20 communities in southern Israel.
"My sister, Shachar, and her husband, Shlomi, were brutally murdered as terrorists came to their kibbutz and went house to house, systematically murdering everyone they found," said Troen. Shortly after it happened, he spoke by phone with his sister's son, Rotem.
Rotem's father, Shlomi, a music teacher, was killed while trying to block the door to their safe room, a feature common to most houses in the Gaza border area to protect against rockets and mortar shelling.
"The next thing he knew was that his mum threw him on the bed and covered him with her body, shielding her son. She was killed, Shlomi was killed," said Troen.
Rotem, 16, was wounded in the stomach and lay under his mother, playing dead for more than half an hour.
"Please help, help!"
"We only knew about it when he started texting us: 'Mum and dad are dead. Please help, help!'" said Troen.
The militants threw a stun grenade and burned down the house, and then moved on to the next house, murdering more people and seizing hostages who were taken to Gaza. But for Rotem, the ordeal wasn't over once the gunmen left. They came back.
"He [Rotem] hid under the bed," said Troen. Help came only after several more hours when Israeli soldiers engaged the militants who had taken over the area.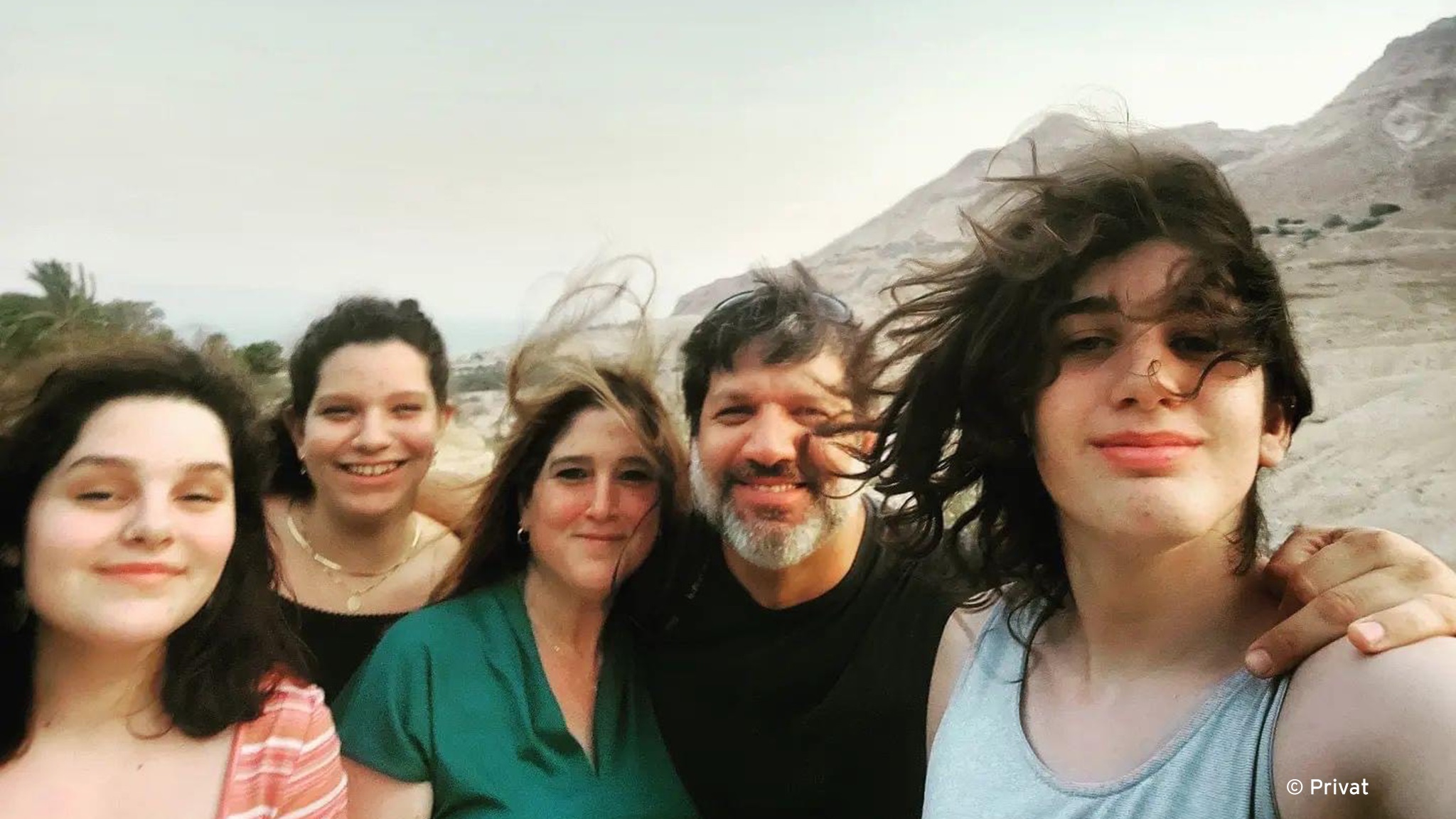 "He [Rotem] hid under the bed," said Troen. Help came only after several more hours when Israeli soldiers engaged the militants who had taken over the area.
"Inhuman behaviour"
"Palestinians have their suffering, but there is no excuse, no way ever to accept this type of hate, violence and inhuman behaviour," said Troen.
As more and more details emerge about what unfolded on Saturday, 7 October, many Israelis are having difficulties coming to terms with the unprecedented terror attack on 21 Israeli communities and army bases near the Gaza Strip.
Fighting over some villages was ongoing on Monday, and the Israeli army appeared to struggle to regain control in some areas.
Numerous hostages
Barrages of rocket fire provided cover for the devastating ground attack launched by Hamas militants in the early hours of Saturday. Attackers breached Gaza's high-tech border fence in several areas and took control of some of the nearby Israeli communities, rampaging through the villages, killing people at random and taking hostages.
At least 900 Israelis have been killed during the assault, with the numbers likely to rise. Since then, thousands more rockets have been fired from Gaza, and Israel is heavily bombarding the Gaza Strip in return.
The death toll among Palestinians stands at more than 830, with thousands injured. 
The scale of the attack has blindsided Israel's vast intelligence apparatus, which had assessed that Hamas was not interested in a renewed escalation.
Israel has fought four wars in the past 16 years against Hamas and other militant organisations in Gaza, along with several shorter military escalations.
Dancing at sunrise
Amy Segal, 27, lives in Tel Aviv. Her friend Ram Sela, who worked at the music festival at the kibbutz of Re'im near the Gaza border fence, was missing for days. On Tuesday, his family got confirmation that he was killed during the attack at the festival.
"We are devastated," she said. "He was working at the festival a week prior to the actual event, and when the attack happened, he was asleep at the place where everybody that worked there was staying."
At around 6:30 a.m. on Saturday, as the Jewish harvest festival of Sukkot came to an end, thousands of partygoers were dancing at sunrise when air raid sirens suddenly went off. Rocket launches from Gaza were followed by massive gunfire, eyewitnesses recalled. At least 260 bodies have been discovered at this site alone.
Dozens of people are still missing, believed to have been taken as hostages by the militants. Harrowing videos have been posted on social media showing bloodied and bruised young Israelis, elderly people and children being dragged onto motorbikes or pickup trucks and driven back into Gaza.
"Everything is falling apart"
About 100 Israelis and citizens of other nationalities, both civilians and military, are believed to have been taken hostage in this manner, but there has been no confirmed final number.
In the past, Hamas has used Israeli hostages as bargaining chips to gain the release of its members in Israeli prisons. An Israeli soldier who was taken captive by Hamas in 2006 after an ambush was released in 2011 in exchange for more than 1,000 Palestinian prisoners.
In a statement on Monday night, the Israeli army said it had notified the families of 30 people who have been kidnapped.
"It's a shock to all of us; I can't believe people have done this, just murdering innocent people, kidnapping people. It's a shock that this happens to us, this generation. This is the first real war we are experiencing," said Segal. "I wish the government could just get a hold of things. I think many people feel the same thing: everything is falling apart."
© Deutsche Welle 2023