Crisis, what crisis?
You might well wonder what Waldi, the little dachshund mascot for the 1972 Munich Olympics, is doing in the middle of the desert. The blue and green animal was once created to promote Germany to the rest of the world – a Germany that was already an economic powerhouse, yet still something of a shrinking violet politically.
And retro Waldi, the dog with no bite, is not alone: VW beetles have also infiltrated the Al Riwaq gallery in Doha, vintage cars that demonstrate how German automobile design has changed over the decades – in short, how an idea takes shape.
Design is a branch of German industry that has yet to take on its full significance, according to Michael Maurer, who oversees design for the Volkswagen Group and is head of design at Porsche. Maurer looks a little lost standing in the 3500 square metres of the exhibition hall on Doha Bay.
"Things have just started to get exciting in design. There are greater changes happening now than there have been in the last 20 years. When the electric car arrives, the large hardware components for the engine will fall away. Then we'll have a car that looks very different." And of course, this is something design teams all over the world are now working on.
"Where can you buy that?"
There is a reason you can currently see all these vintage cars in Qatar, as well as chairs and sofas and the Leica cameras that dominated the world for many years. Not to mention Adidas shoes from 1954 or the bespoke football boots of the future, which are "tailored" by a computer using a 3D process.
Beneath the dome of the fantastic Museum of Islamic Art, Sheikha Mayassa, the sister of Qatar's Emir Tamim bin Hamad al-Thani, is expressing her thanks: "At the moment, we are experiencing a political blockade, imposed on us by our neighbours. I am therefore all the more grateful for the immediate reaction and support from Germany. Qatar will never forget Germany's response to the current situation and so I would like to thank you on behalf of the Qatari government."
Sheikha Mayassa is a powerful player in the art world. Forbes lists her as one of the world's 100 most influential women. Every year she spends a billion dollars in the art market.
Paul Achleitner's response on behalf of Deutsche Bank was also noteworthy for the Qatar-Germany Year of Culture: "We would like to express our support and sympathy for the citizens of Qatar in this very difficult situation we find ourselves in. Volkswagen and Deutsche Bank are going through a difficult period, just as Qatar is. But we all see crises as a positive opportunity to move forward and embrace new possibilities."
Crisis? What crisis?
Plain speaking – particularly as Achleitner also mentions the difficulties that Volkswagen and his own company have to overcome. Qatar, in any case, is not rattled by the blockade imposed by its neighbours and is carrying on with "business as usual". Al Jazeera is still broadcasting unapologetically; Qatar Airways is still flying round the globe. Some even think that Saudi Arabia will ultimately emerge as the loser of the dispute it instigated.
The construction of the World Cup stadium is also continuing. In a very short space of time the country has created new infrastructure, new ports and transport routes for the gas exports that sustain it. It seems that Qatar will not be brought to its knees so easily.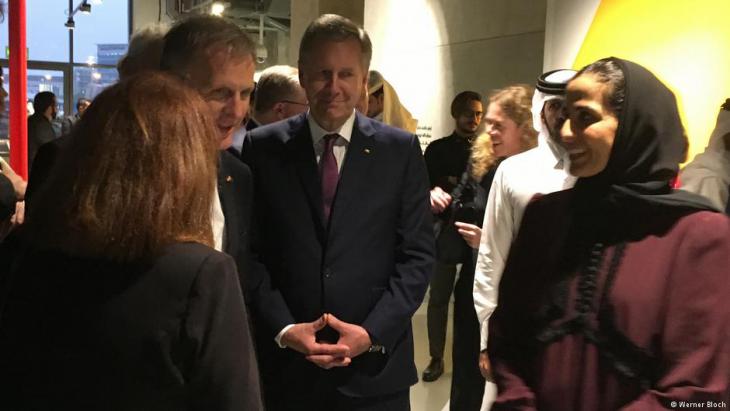 German and Qatari economies enjoy close links
Although the Qatar- Germany Year of Culture was organised long before the blockade, it now looks like a show of solidarity. Friedhelm Hutte, head of Deutsche Bank's art department, has brought his best Polkes, Baselitzes und Neo Rauchs, which are now on display in the over-air-conditioned Fire Station.
Economically, Germany and Qatar have long been closer than you might think. The Emirate owns just under 15 percent of Volkswagen and eight percent of Deutsche Bank. Porsche, the solar products manufacturer Solarworld and the construction company Hochtief also have experience with Qatari investors. According to the German chamber of foreign trade, 64 German companies have a branch office in Doha.
Werner Bloch
© Deutsche Welle 2017
Translated from the German by Ruth Martin