"My money's on Algeria and Russia"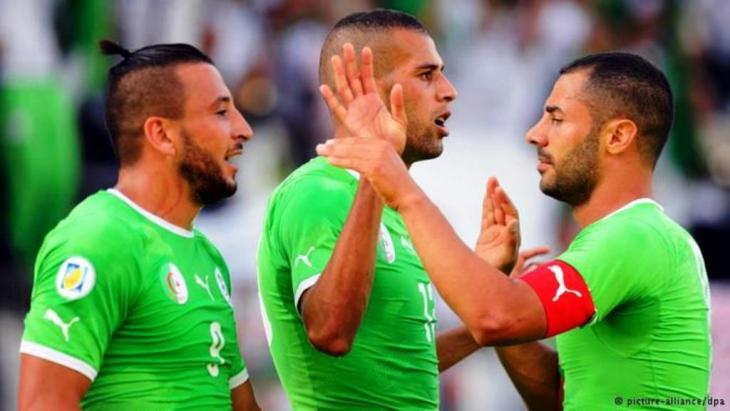 How do you rate Algeria's chances as the only Arab team at the FIFA Word Cup in Brazil?
Hafiz Deraji: People used to say that at this stage, it would be premature to talk about the Algerian team's prospects. It all depended on the players' form and their performances with their various league clubs. But now, as the World Cup begins, it's fair to say that the Algerian national team stands just as good a chance as the other teams in Group H – Belgium, Russia and Korea – particularly after taking part in South Africa 2010.
But other factors also give cause for optimism: on the one hand, Algerian fans have high hopes of their team, and on the other, this squad is made up of young players keen to show off their technical skills. Then there's the superb work that coach Vahid Halilhodzic is doing with the team. Many observers and commentators in Algeria believe that the squad is about to put in its best ever performance at a World Cup.
But ever since Bosnian coach Halilhodzic took over, he's been pilloried by the Algerian media. Even the World Cup qualification doesn't appear to have improved his popularity. And there are also reports of a dispute between him and the Algerian Football Federation President Mohamed Rourawa. Is there any truth in that?
Deraji: I think it's just about the two of them having different points of view, and that's normal and natural. The dispute was over the future of Halilhodzic with the national squad, and the matter is off the table. Rourawa wanted Halilhodzic to continue coaching the national team after the World Cup, and sign for at least another six months, until the end of the African Cup 2015. Halilhodzic declined, and he's perfectly entitled to do that.
Moreover, he's made statements in the past that the Algerian media judged to be defeatist. The coach said that Algeria did not yet have a competitive national squad. Under popular pressure, the Federation President then described these statements as excessive.
The coach's troubled relationship with the media probably dates back to the 2013 Africa Cup, when Halilhodzic had some problems with the press and demanded regulated interaction with the media thereafter. Up to that point, the Algerian press had been used to coaches like Rabeh Saadan and his successor Abdelhaq Binchekha. I think the misunderstandings dating from that time still linger to this day, and some Algerian journalists feel that Halilhodzic would rather to talk to international media than domestic outlets.
You say Algerians are optimistic about their team's prospects in Brazil. What's changed since the 2010 World Cup in South Africa?
Deraji: We've got a new coach and a new generation of players with great ambitions, who want to perform really well and prove that they've got what it takes to advance in world competition, also as a way of motivating their colleagues at club level.
I think taking part in the World Cup in South Africa was a lesson for us all. I'm very optimistic as I'm close to the coach and know what he's thinking, and because I'm certain that many of our players won't pass up the chance to play opponents they have a chance of beating. It won't be easy, but at least in Group H there are no heavyweights like Argentina, Brazil, Germany, Portugal or Spain.
You say you know how the Algerian coach ticks, so how would you describe him?
Deraji: On the one hand, Halilhodzic has the same mentality as we North Africans. He's got a strong personality and likes to voice his evaluation of the team's technical abilities and the players' level. He runs a tight ship with the players and is keen to insist upon his way of doing things, even if he's sometimes in the wrong. I think he's won the respect of the team and also the media. And in my view, he can also make use of this on the field in encounters with the other World Cup teams.
So you think Algeria will advance further than the group stage. Which other team from Group H do you think will make it into the second round?
Deraji: I think it'll be Russia. Many expect Belgium to qualify, but my money's on Algeria and Russia. Belgium may have some outstanding players, but as well as technical prowess the team also lacks harmony. Other teams can capitalise on these deficits.
Interview conducted by Adil Chroat
© Qantara.de 2014
Translated from the German by Nina Coon
Editor: Aingeal Flanagan/Qantara.de