Integration is a two-way street
Germany in 2016 is probably the most open and diverse German society that has ever had to confront a large-scale wave of immigration.
Our achievements on this path to an open society can be seen as stages in a long process of integration at all levels – from the struggle for women's rights to the adoption of a modern citizenship law. This process is still a long way from reaching its goal.
Perhaps the most important insights to have emerged to date are that both openness and pragmatism are key factors for success. For years, integration took place in Germany in the face of political opposition. Some asserted that Germany is not a country of immigration and for this reason there was no need to reach out to immigrants. Others claimed that there was no need to actively promote integration as it was more than sufficient to allow for diverse communities to exist separately, side-by-side.
Mutual understanding was propelled forward in those areas where people sought solutions without being hampered by ideological blinders. Such understanding is based on a willingness to approach and listen to each other. This has resulted, for example, in an increase in German language courses being offered to immigrants on the one hand, while, requiring that those seeking to naturalise achieve a certain level of proficiency in German before being granted a German passport.
Openness and pragmatism
We must continue along this path. Germany must be open to the new arrivals. We must emphasise the diversity of German society while being willing to learn about the personal histories of those who are coming to live here. It is we who need to take the first step, we who live in Germany in security and relative prosperity. By contrast, most of those who come here are victims of war and persecution.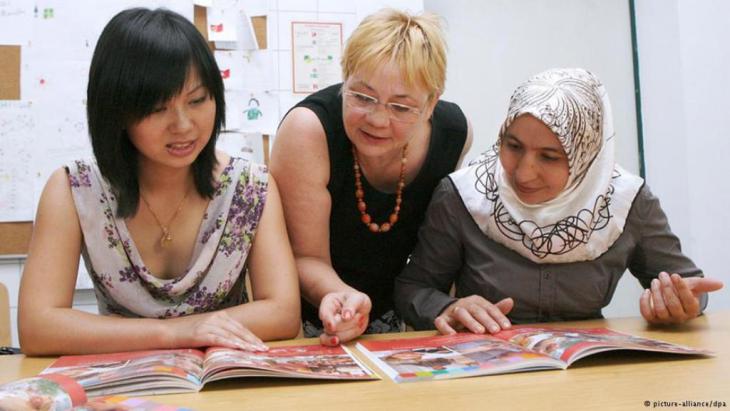 It is up to us to convey to them – with all due respect – that we expect a similar level of openness from them and that in offering them our hand, we expect them to do the same.
Moreover, the lines between "us" and "them" have become increasingly blurred – precisely because Germany in 2016 is an open and, in many respects, contradictory society. An individual persecuted by the Eritrean regime may well have suffered a traumatic experience similar to a victim of the Stasi 40 years ago or an Iranian opposition activist who fled to Germany 30 years ago.
Iraqi and German women's rights activists pursue similar political goals and struggle against an image of women that members of the AfD and conservative Iraqi refugees probably share. (As a reminder: Women in Germany could not open their own bank accounts until 1962, a husband could decide if and where his wife could work up until 1999, and, before 1997, rape in a marriage was not a punishable offence.)
Integration debate both diverse and contradictory
This diversity of perspectives does not make the situation any easier. But, in contrast to a constellation of two entrenched fronts, it allows for discussion to take place.
The media is one of the most important forums for such a discussion. It is also the responsibility of the media to prominently display the diversity and contradictory nature of our debate. It is essential, especially with respect to the integration of new arrivals, to represent the multicultural nature of contemporary Germany. Immigrants have to be seen as participants in our society in order to serve as identification figures and role models for new arrivals.
However, it is also a matter of clearly highlighting the reasons why so many people are coming to Germany. It is imperative that our media provides reporting on international politics as a matter of course, as does, for example, the BBC, which provides more in-depth coverage than the German state broadcasting companies.
It is sometimes difficult for those who have come to Germany under duress to talk about war and oppression. This is an area where the media could certainly offer them support.
Omid Nouripour
© Qantara.de 2016
Translated from the German by John Bergeron
Omid Nouripour has been a member of the German Bundestag for the Alliance 90/The Greens since 2006. Previously, he worked as a self-employed consultant. The 40-year-old is originally from Tehran and arrived in Germany when he was 13. From 2002 to 2006, he served on the National Executive Committee of Alliance 90/The Greens. From 2002 to 2009, he was the spokesman of the German Association for Migratory Affairs and Refugees. Nouripour is a member of the Committee on Foreign Affairs and the Committee on Human Rights and Humanitarian Aid. In addition, he is a deputy member of the Foreign Affairs Subcommittee on Cultural Relations and Education Policy.