Getting behind civil society
Culture saved him – so to speak – from violence and radicalisation, says Mohamed Essul. The 29-year-old Libyan has been organising cultural events in his home city of Tripoli since 2011 and is currently pursuing a dream: to renovate his grandfather's house and set up an artists' residence there.
Last summer, he and 11 other people working in Libya's cultural sector took part in the Kulturakademie programme in Libya. The project aims to give Libyan cultural managers a qualification and connect them with the Arab and German cultural scenes. The prevention of violence is a welcome side-effect.
Preventing radicalisation
The Goethe-Institut is taking a similar approach to educating people towards non-violence in Egypt and Tunisia. Since the seeds of radicalisation and violence are often sown in adolescence, while young people are still at school, education policy-makers and academics are focusing on the prevention of violence in Egyptian and Tunisian schools.
The education ministries and the Goethe-Institut have taken a closer look at this issue in Egypt with three workshops aimed at school leaders, teaching staff and students.
"I see almost no difference between Egyptian and German students," says trainer Holger Hegekötter, who came to Cairo in November for the project's kick-off workshop. "The students you are dealing with today are the ones who will lay the foundations for how society will function in the future, and they are the ones who can change these foundations. But that kind of change takes time," says Hegekötter, the head of Bremen's Institute for Pedagogy and Psychology. In Tunisia, the Goethe-Institut is also planning to implement a continuing professional development programme for teaching staff and school psychologists, and student projects with cultural or sporting activities.Measures aimed at social transformation
The Goethe-Institut has been supporting projects like these since 2011, with special funds from Germany's Federal Foreign Office provided as part of the Transformation Partnership with Egypt, Tunisia, Libya, Morocco and other countries in the Arab world.
Another example is the 2017 pilot project "Writing about Science". The aim of this project was to strengthen science journalism in Egypt and encourage better relations between science and journalism. Scientific subjects are frequently under-represented in the Egyptian media, and the spread of "fake news" – sometimes politically motivated – is a frequent problem. As part of the Transformation Partnership, the Goethe-Institut has already carried out over 40 projects like this in the fields of culture and education.
 All the project countries involved in the Transformation Partnership are in turmoil and face extraordinary challenges. Although local activists continue to work for socio-political change, the calls for more democracy and social participation that were expressed in the Arab spring remain largely unanswered. For this reason, the strengthening of civil society remains a priority. One area of emphasis in this respect is on projects that focus on women and gender.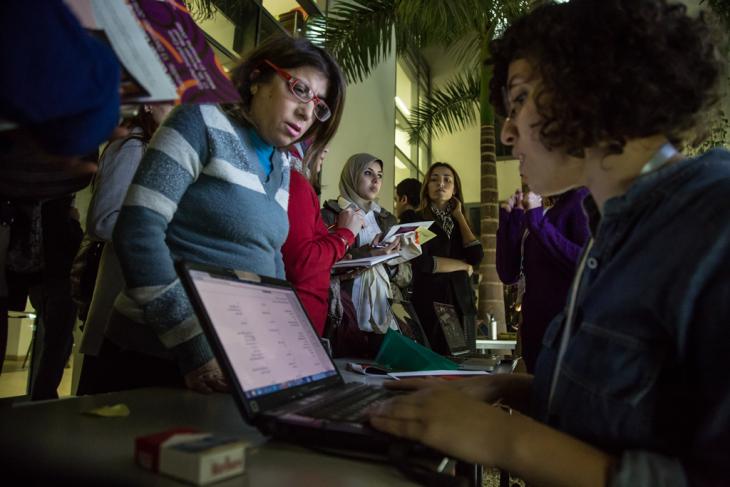 Women and gender projects
One series of workshops in Luxor, Upper Egypt, is encouraging working women to analyse their environment from a gender-related perspective. In this way, they can reflect on their own position and biography in a social context and dismantle outmoded ideas about gender roles.
"Traditional gender roles place women behind men, as second-class citizens. In this context, girls grow up, and gender roles become part of their identity and values," says Hoda Kandil, who designs gender workshops like these for young Egyptian men and women. She is a psychotherapist and previously took part in a Goethe-Institut workshop on civic education. She now works as a self-employed trainer on gender awareness in traditional, conservative Upper Egypt.
She might watch a cartoon with workshop participants, in which a prince rescues a princess, conveying the message that a woman always needs rescuing. "Behind this, for example, are the ideas of the victimisation of women, their weakness, and also the idea that they can always rely on men," says Hoda Kandil. "Equally, these films give women the subconscious feeling that they are not capable of doing things themselves or making things happen."
Local NGOs can also enter gender-related information in Wiki Gender, a collaborative and participatory knowledge platform. The wiki constantly gathers and adds to information on gender and women's issues in Arabic. The intention behind the project is to trigger discussions on these topics. Regular meetings for representatives of organisations looking at gender issues and female empowerment are also helping to build a local network and providing space for discussion.
Civic education
This space for discussion is what is currently lacking: after the heyday of social engagement in the wake of the Arab Spring, many people active in this area have been confronted with increasing repression over the last few years. The Goethe-Institut offers a protected, free space: it makes its expertise, network and rooms available to support people working on social issues, and to enable open dialogue and exchange to continue.
The Goethe-Institut is, for example, supporting Tahrir Lounge @Goethe as a free and experimental space for young Egyptians: at the Tahrir Lounge, they can discuss issues, explore ideas and attend workshops to develop social and personal skills – all with one goal in mind: to create opportunities for engagement and productive activities for young adults, even in the current difficult political context.
The regional NACE (Networking Arab Civic Education) network, which is funded by the Bundeszentrale für politische Bildung (German Federal Agency for Civic Education) in co-operation with the Goethe-Institut and other partners, plays an important role here. "The network supports the process of democratisation in the region. We are researching the role and methods of civic education and collecting and systematising information on initiatives and activities relating to civic education in the region," explains Mona Shahien, head of the Tahrir Lounge and member of the NACE Steering Committee. "NACE connects people and institutions who are active in this area, to make their work stronger and more focused."
The NANO Academy
The Goethe-Institut is also promoting critical and creative thinking by supporting, at the request of the Egyptian and Tunisian education ministries, the development of more effective education systems, with a stronger focus on modern management.
The school systems in these countries have so far, for example, not been tailored towards participatory learning. This is why the Goethe-Institut is providing professional development for school leaders and advising them in change management, so that modern management structures can be developed in the Egyptian and Tunisian school systems.
Christina Büns
© Qantara.de 2018
Translated from the German by Ruth Martin