Which nation could mediate over Gaza?
After a brutal terror attack on Israeli territory last weekend by the militant Hamas group, considered a terrorist group by the EU, US and other nations, that left over 1,200 people dead, conflict in the region appears to be escalating.
Last week the Israeli air force says it dropped 6,000 bombs on the Gaza Strip, which, at just over 40 kilometres long, is one of the most densely populated areas in the world. Due to the massive airstrikes, there are now over 2,300 people dead in Gaza. In its attempts to free 199 hostages being held by Hamas inside Gaza, Israel has also imposed a siege on the around 2.2 million inhabitants of Gaza, an area it has controlled entry to since 2007.
On the Israeli-Lebanese border, the militant Hezbollah group has fired rockets into Israel in support of Hamas. In the Israeli-occupied West Bank, Israeli settlers have been attacking Palestinians.
Region must lead negotiations
"There are clear fears across the Middle East that the region will become mired in a broader war," Sanam Vakil, director of the UK-based think tank Chatham House's Middle East and North Africa program, wrote in a briefing last week.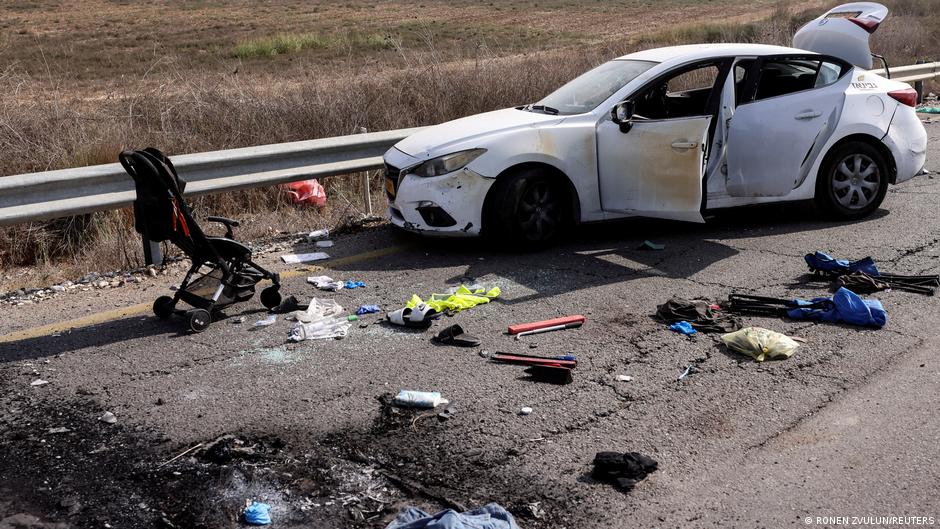 A war that could draw in Palestinians elsewhere in Israel, neighbouring Jordan and Egypt, Lebanon and even Iran, Vakil suggested. "Gulf Arab countries also fear their domestic security will be affected by cascading violence," she added.
At the same time, there have been some attempts by the international community to arbitrate. Various countries have stated they want to help facilitate the return of the hostages to Israel, to provide a humanitarian corridor for Palestinian civilians under attack and to negotiate an eventual cease-fire.
The United States, European nations, Russia and China have all said they would be keen to help. However, Vakil argued, it is Middle Eastern countries that must take the lead. "The part played by the U.S., China and other international actors may well still be significant. But [regional] countries should lead," she noted.
In fact, they must. In March, in what was seen as a diplomatic coup by many, China brought avowed enemies Saudi Arabia and Iran closer together. And the Chinese say they would be ready to assist here too. However, to do so, they have already conceded they'll need to work with Egypt.
The U.S. is also an integral partner in any talks because of that country's close ties to Israel – but in order to contact Hamas, it too must rely on others.
"We know that #Qatar has access here to #Hamas, that we certainly don't have, the Israelis don't have, and to a degree that Qatar can play a useful role here we're going to encourage that obviously. They've got a way to have dialogue and conversations"https://t.co/jdwEoBRXBq

— Dr Andreas Krieg (@andreas_krieg) October 11, 2023
Egypt unwilling
Israel's neighbour Egypt is intimately involved because it presides over the only other border crossing, apart from Israel's, that Gazans can use to leave their blockaded territory. Egypt's authoritarian leader, Abdul Fattah al-Sisi, has emphasised the need to allow humanitarian aid into Gaza. The Egyptian foreign ministry noted on Friday that their Gaza border crossing, Rafah, was open again, having been bombed by Israel earlier in the week.
The World Health Organization, the United Nations and the Red Cross have all said they are standing by to assist should a corridor for humanitarian aid be established. One thing, however, that Egypt does not want coming through the Rafah crossing is people. Palestinian civilians previously fled into Egypt in 2008, when Israel first imposed a blockade on Gaza.
"Egypt was keen to open the Rafah crossing to provide humanitarian aid, food and medicine, but instability and the expansion of the conflict leads to more hardship and more refugees," the country's foreign minister noted earlier this week.
This attitude is in line with the country's historical position on the conflict, which says Palestinians and Israelis must work things out for themselves, and that Palestinians should not be forced into displacement and giving up their homes.
Additionally, Egypt's Sisi sees Hamas as a security risk – he considers the group close to one of his main domestic, political rivals, the Muslim Brotherhood group – while other nearby countries like Qatar have fostered closer ties to Hamas.
All that might still change, however, if the situation deteriorates further and thousands of desperate Gazans try to cross the Egyptian border.
Hospitals in Gaza say they are about to run out of fuel and will be unable to continue operating. Israeli bombing has leveled whole neighborhoods and almost half a million locals have been displaced. The Israeli army has announced that it wants 1.1 million people in northern Gaza to move south – that is, towards the Rafah border crossing and Egypt.
Should things get even worse, Egypt may be forced to accept more Palestinian refugees, the independent Egyptian publication, Mada Masr, reported.
And while Egypt is trying to diplomatically manage the crisis, its historic role as a mediator has largely been usurped by Gulf powers. This is evident in the fact that the US administration has only held communication at the diplomatic level thus far. pic.twitter.com/BmgcQILXJ0

— Mada Masr مدى مصر (@MadaMasr) October 11, 2023
Jordan as a humanitarian observer
Jordan also borders Israel and has a long history as an interlocutor in this area. Since 1994, as part of a Jordan-Israel peace deal, the Jordanian royal family have been the guardians of some of the most sacred Muslim and Christian sites in Jerusalem. However, Jordan does not have much of a relationship with Hamas, analysts acknowledge.
Earlier this week, at the opening of a new session of Jordan's parliament, the country's King Abdullah II said there could be no peace in the Middle East without "the basis of the two-state solution".
A two-state solution would mean that Israel and Palestine become two separate, neighboring countries. Despite the fact that many politicians refer to this as a potential solution, most experts concede a two-state solution has not been viable for years now.
But Jordan has a good relationship with the U.S. and the Jordanian king said he would be speaking to U.S. Secretary of State Antony Blinken when he visits this week. The king has also called other EU and Arab leaders. Jordan was one of the first to dispatch a plane filled with aid to Egypt, for Gaza, and, last week, donated €4 million to UN efforts in Gaza.
Qatar leading on hostage negotiations
Qatar has some of the region's closest ties to Hamas. The militant Islamist organisation maintains an office in the small, oil-and-gas-rich Gulf state and some senior Hamas officials live in Doha. The organisation maintains a degree of separation between its political bureau, which sets policy, and its military operatives.
Since 2020, the group's political boss, Ismail Haniyeh, a Gaza native, has been living between Qatar and Turkey, being no longer able to travel freely through the Egyptian border crossing.
Just under a week after the terrorist attack on Israel, news agency Reuters reported that Qatar was trying to help negotiate both a ceasefire and an exchange of Hamas-held hostages for 36 Palestinian women and children from Israel's prisons.
Qatar has previously mediated between Hamas and Israel and has also helped host talks between Iran, one of Hamas' primary supporters, and the United States. A source told Reuters that the U.S. was also involved in the current talks and that these were progressing positively. An Israeli source denied this, however, saying no negotiations were happening.
Turkey's Hamas ties
Turkey, a NATO member, has often come out in support of the Palestinian cause. It too hosts Hamas offices and has invited senior Palestinian leaders to Istanbul for talks in the recent past. Unlike its military allies in Europe and the U.S., Turkey does not consider Hamas a terrorist organisation.
Turkey has also offered to help mediate between Hamas and Israel.
Turkish-Israeli relations only recently improved, resulting in so-called normalisation in 2022. They had been tense since 2010, when Israeli special forces killed 10 Turkish members of a flotilla bringing aid to Gaza illegally (according to Israel) via the sea.
Friendlier relations have not stopped Turkey's President Recep Tayyip Erdogan from condemning Israel's retaliatory bombing of Gaza as "a massacre" though. Erdogan has also criticised the U.S. for moving warships into the area.
© Deutsche Welle 2023