Shocking Indifference
A shockwave – or just a ripple of surprise? On 23 November the French news agency AFP published a report stating that the number of "Islamophobic acts had risen again". The report is based on data from the "National Monitoring Centre for Islamophobia" which claims that attacks on Muslims and Islamic establishments in the first nine months of this year have increased by 11.3 percent on the same period last year.
Attacks such as this one, among others: On 19 November, the walls of the Grande Mosquée de Paris – the capital's oldest mosque established in 1927 – were sprayed with abusive statements. The warden of the mosque, Dalili Boubakeur, expressed his most profound regret at this expression of what he called "racist violence and hostility".
This is no isolated incident: Recently in the southern French town of Lesparre-Médoc near Bordeaux, police arrested two men aged 24 and 39 alleged to have been responsible for daubing swastikas on the walls of the local mosque last summer. Both men confessed the following day.
New quality of racism
As though that were not enough: In early November the news broke that two mosques in Besançon had also been daubed with inflammatory slogans. The perpetrators had scrawled statements such as "Arabs Out!" and "France for the French!" on the walls, as well as swastikas. Similar slogans had been painted on the walls of a mosque in the southern French town of Carpentras two weeks previously – along a total length of 30 metres.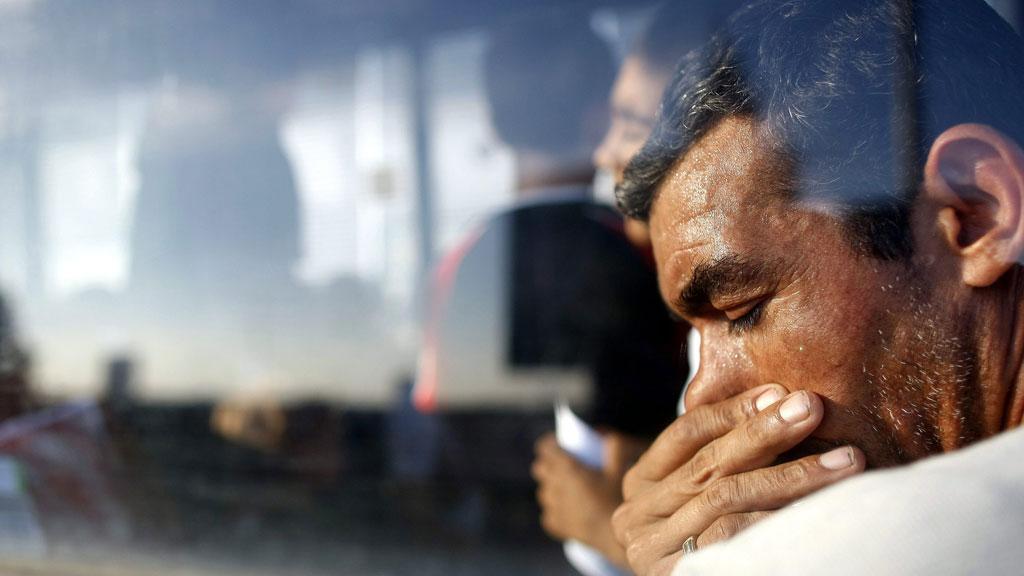 Racially motivated, anti-Islamic vandalism such as this is not the only cause for concern at the monitoring centre set up some time ago by the French "Representative Council of Muslims" (CFCM). An increase in physical attacks on Muslim women wearing a veil or other head covering is also "a new phenomenon", as the centre ascertains in its latest report.
Attacks on Muslim women
The first incidences of this nature emerged in early 2013 in the satellite town of Argenteuil, northwest of Paris. There, unknown attackers beat up several Muslim women; a 19-year-old suffered a miscarriage in June as a direct result of her ordeal. Two protest rallies then took place in Argenteuil.
But because it was Salafist groups, among others, that tried to capitalize on the sense of outrage and took to the streets in protest, the demonstrations attracted little national interest. This meant that any sense of solidarity among elements of the population failed to emerge, to the chagrin of many of those affected, but also of anti-racist groups – even though the victim who had suffered a miscarriage was given the opportunity to present her complaint in person to the interior ministry in late June 2013, as a gesture of sympathy.
The monitoring centre has documented a total of 14 cases of physical violence against women wearing a Muslim headcovering in the Paris suburbs of Argenteuil, Trappes and Reims. The wave of attacks occurring in the Parisian banlieus is probably attributable to rightwing extremist skinheads, although police have so far been unable to apprehend any perpetrators.
But in the meantime, cases are being observed of acts of violence committed against Muslim women by people with no rightwing extremist background. Last July, the trial began in Orléans of a motorist who attacked three Muslim women following a traffic dispute. The man was accused of hurling racist taunts at the three women – a woman from the Maghreb region, her 15-year-old daughter and her sister – and pulling them out of their car. He was eventually sentenced to two months in prison.
At the annual national rally against violence against women, held on 24 November, for the first time Muslim women wearing headscarves formed their own bloc. They said they were taking a stand against domestic violence perpetrated by men, as well as expressing their growing fear of being attacked in the public sphere.
Dashed hopes
Many believed that the waves of outrage connected to the public perception of Muslims had been primarily incited by campaigning in the run-up to the French parliamentary and presidential elections in early 2012. During the campaign, the rightwing extremist "Front National", but also elements of the conservative camp, had voiced objections to the "increased presence of halal meat in school canteens", sometimes openly portraying this as evidence of the fact that the nation was being overrun with foreigners. Many people believed that the public debate over Islam would die down after the elections. But they were very wrong.
But assertions that the racism prevalent in French society is first and foremost taking on "culturalising" forms and being mainly directed at symbols and expressions of the Islamic faith have not been borne out. This is because racism against Romany communities in France has increased, as well as racism against black politicians such as the French Minister of Justice, Christiane Taubira, who was repeatedly and publicly insulted by her political opponents who called her a "savage" and a "monkey".
In the meantime, this increase in racist violence has triggered a counter movement: Large-scale protest events against racism and xenophobia are expected to be held in France at the end of this year. These are to mark the 30th anniversary of the spectacular "March for Equality and Against Racism", when from October to December 1983, the sons and daughters of Maghreb immigrants marched on foot from Marseille via Lyon to Paris, to demonstrate for better rights and more foreigner-friendly policies.
Bernhard Schmid
© Qantara.de 2013
Translated from the German by Nina Coon
Editor: Lewis Gropp/Qantara.de