An anti-feminist manifesto
In "Three Faces" Panahi takes to the road again, as he did in "Taxi" (Golden Bear – Berlinale 2015). This time he is on a quest to reveal the secret of a mobile video he has received via social media. The video was actually addressed to the popular film and TV actress Behnaz Jafari: a desperate girl named Marziyeh (Marziyeh Rezaie) from the mountainous region in north-west Iran accuses Jafari of failing to help her become an actress despite numerous requests.
The girl claims that she could have convinced her parents to allow her to attend acting school in Tehran. But now her parents have forced her into marriage and she has abandoned her passion for the theatre. As a result she sees no other way out but to kill herself. The video ends with the desperate young woman hanging herself.
Real or fake? In search of a clear answer, Panahi and Jafari set off for the mountains of Azerbaijan. The locations are also the birthplaces of the director's parents and grandparents. The protagonists also play themselves: Marziyeh Rezaie, Behnaz Jafari and Shahrzad. You never get to see Shahrzad's face, however. Before the Iranian Revolution of 1979, she played dancers or prostitutes in the films of well-known directors such as Massud Kymiai. Since public dancing and singing are forbidden for women under today's mullah regime, they are only shown as shadows behind a curtain so as not to reveal their identity.
There is another well-known woman in the film whose name Panahi has not integrated into its title: the director Manijeh Hekmat. She has been a successful filmmaker and producer in the film business since the 1980s. In 2002 she made her first feature film "Women's Prison". The film was shown at over 80 international film festivals and received seven awards.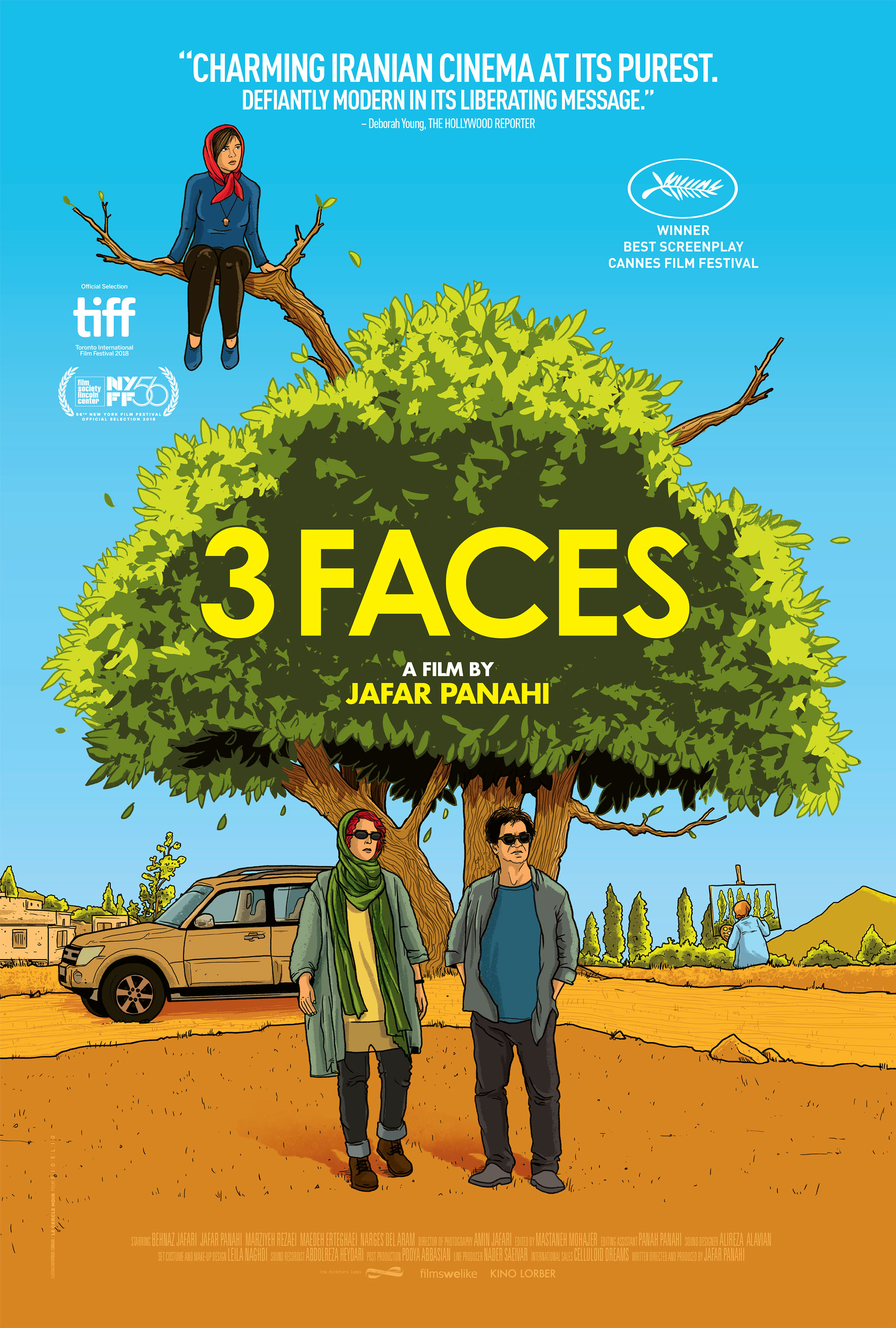 In "Three Faces" we only hear Hekmat's voice, although she plays an important role as a mediator. Without her Panahi wouldn't have been able to find the actress Jafari: Hekmat has ties to Jafari, because she is shooting the last sequences of her new movie with her as the main actress.
Hekmat is later thoroughly disappointed when Jafari doesn't show up at the location on the last day of shooting as planned, without informing her. On the same day the actress, plagued by her guilty conscience, is on her way with Panahi to Azerbaijan.
"Brave and confident women"?
"Three Faces" begins with the departure of two unequal cineastes in search of the truth. The film is the first time that Panahi has attempted to address and denounce the unequal and discriminatory treatment of female filmmakers in society.
He received much acclaim in the West, with critics praising "Three Faces" as "a silent feminist manifesto" (Kino Zeit). After all, he portrayed "the women of the three generations courageously and self-confidently" (film star).
If one analyses the characters of the protagonists, however, one realises that Panahi is merely reinforcing ingrained, religiously patriarchal prejudices against women, who are consistently portrayed as weak, hysterical, cruel, illogical, too emotional and treacherous.
By contrast, the director – with his ground-breaking ideas, rich experiences and clever advice – is superior to women in every way.
Experienced actress as violent schoolgirl
The protagonist Jafari is a blatant example of this. Her character is conceived in such a way that she can neither think nor act independently. Her dialogues almost always begin with sentences like: "What do we do now, Mr. Panahi? Shall we go, Mr. Panahi? Is the video real, Mr. Panahi?" Although she has appeared in more than 40 feature films and 30 TV series, she is not able to distinguish between the different editing techniques. As a result, Panahi is able to convince her to go on the journey with a single sentence: "The final cut of the video is perfect, so it must be real". No objections.
Moreover Jafari is unable to make any independent decisions. The only time she acts confidently, she turns into a brutal, violent and cold-blooded woman, driven only by blind rage. Having learnt that the video is fake after all and that Marziyeh is living in hiding (because she fears her brother's retaliation), Jafari locates her, attacks the defenceless girl like a wild animal and beats her to within an inch of her life, paying no attention to her explanations, pleas and supplications.
In doing so, she willingly completes the self-imposed task of Marziyeh's vengeful brother, who wants to chastise his sister. The unbridled intervention of Jafari, which takes place before Panahi's eyes, meets with his tacit approval. After all, the girl has lured both of them into the mountains with cunning and treachery.
Panahi ensures in the script that Manijeh Hekmat also shows Jafari, her main actress, as an unstable woman. Rather than saying her name, she calls the actress "the crazy woman" and bitches about her in a telephone conversation with Panahi, because she has let Hekmat and her film staff down. Here, too, Panahi appeases the excited colleague and solves her problem by advising the experienced director to shoot the remaining sequences.
A lack of reflection
"Three Faces" is an essay film that presents an unconsidered ethnological take on the customs, beliefs and superstitions prevalent in the mountainous region of Azerbaijan and consciously builds cinematically on the tradition of Iranian director Abbas Kiarostamiʹs cinema verite and films such as "The wind will carry us". The four protagonists become victims of a script that is too strongly focussed on an already shaky concept and that fails in the differentiated presentation of its female characters. Rather than creating a monument to women, Panahi ends up underpinning the many cliches associated with them.
The limited possibilities arising from Panahi's professional ban and the reprisals of the Islamic government are obviously a stumbling block when it comes to the courageous director producing brilliant films like "Circle". But "Three Faces" suffers from one major shortcoming: the lack of a considered and deeply egalitarian view of the relationship between man and woman – even in the film business.
Fahimeh Farsaie
© Iran Journal