Getting Washington wrong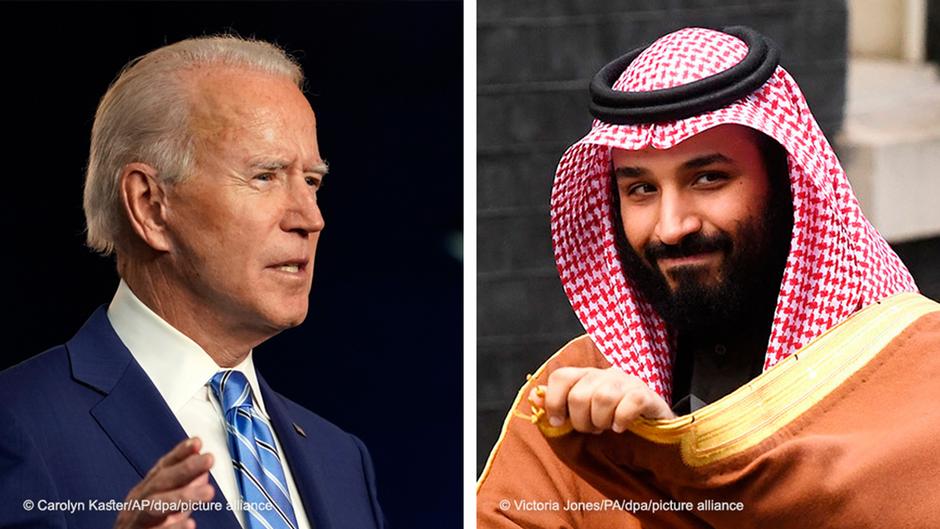 With one eye on punishing Russia for its invasion of Ukraine and the other on limiting the global impact of subjecting the oil-producing country to wide-ranging sanctions, the United States has sought to convince Saudi Arabia and the United Arab Emirates (UAE) to increase their oil output. Both the Saudis and the Emiratis have also continued doing business with Moscow, despite the growing number of countries cutting ties with it.
This double-pronged rebuff follows a period during which relations between the two Gulf countries and the United States grew quite strained. In an interview conducted via email in late April, Iyad El-Baghdadi, founder and president of Kawaakibi, a Norway-based nongovernmental organisation concerned with "the future of liberty in Muslim communities and the Arab world", examines the reasons for the near-rupture.
They include differences over what he terms the "long divergence" between the United States and its erstwhile staunch Gulf allies: regional security, the Iran nuclear deal, Washington's revocation of its earlier designation of Yemen's Iran-backed Ansar Allah, better known as the Houthis, as a terrorist organisation, and the continuing fallout over Saudi Arabia's assassination of journalist Jamal Khashoggi.
***************
What, if anything, is significant about the refusal of both Saudi Arabia and the UAE to accede to U.S. requests to ramp up oil production and place sanctions on Russia? Are there indications that this signals some sort of long-lasting shift in their relationship with Washington, as opposed to a hiccough that most of us will soon forget?
Iyad El-Baghdadi: Strategically speaking, the events are significant because they provide further proof of the ongoing divergence between the United States and its key Middle Eastern allies. This divergence did not start in the immediate past and will not end in the immediate future. It's a long-term trend that will continue. The Ukraine crisis is only one point on this trajectory – and perhaps an accelerator.
Without delving into the history of how the United States became entangled in the Middle East, it's key to note that such entanglement was about one thing above all: oil. Initially, Washington wanted simply to secure resources (and to deny them to its adversaries), but during the 1970s and with the rise of the petrodollar, Arab oil became crucial for U.S. safety and prosperity. Books have been written about how Arab oil ensured America's global supremacy and, indeed, its victory in the Cold War. While the Soviet Union had to dig for oil, the United States could print dollars for it. Other reasons, such as terrorism and Israel, are often cited for why the Middle East came to be an area of vital strategic importance to the United States. But it can be convincingly argued that terrorism only became a factor after American intervention and that Israel was of crucial importance mainly as a reliable ally in a vital strategic zone.
And so, for decades the United States provided security guarantees and the Gulf Arab states provided dollar-denominated oil. Washington tolerated what was done at home by the Gulf states, and the latter knew better than to upset their powerful ally. The Gulf states did not have to spend much on their own defence and were able to direct investment toward economic development. Even when peace was shattered – such as during Iraq's invasion of Kuwait – the United States immediately and reliably came to their assistance with its overwhelming firepower and its large, well-trained military. But this reality lasted only for as long as the world ran on oil and petrodollars reigned supreme.
There's a debate over when exactly the petrodollar system ceased to be a determinant of Washington's relationship with the Gulf states. Many point to the 2007-2009 "Great Recession" – and I tend to agree, if not simply because the bipartisan policy of the United States ever since has been withdrawal. President Barack Obama attempted a withdrawal from Iraq in 2009. In 2013, he began talks on the nuclear deal with Iran. The rise of the Islamic State group saw a reversal in the trend, but this was only temporary. By 2016, president Donald Trump was looking to withdraw more U.S. troops. Despite his close relationship with Saudi Arabia, Trump refused to use American firepower against Iran following the Houthis' 2019 attack on Saudi oil facilities, opting instead to respond via a single-strike assassination of Qassem Soleimani, commander of the elite Quds Force in Iran's Islamic Revolutionary Guard Corps (IRGC), and his entourage.
President Joe Biden's administration has thus continued a trajectory established decades ago: when it comes to the Middle East, the United States is packing its bags and leaving. And while it would prefer to leave with some sort of coherent regional security arrangement in place, its main geopolitical focus isn't the Middle East at all, but rather its "pivot to Asia" to counter China, and its shoring up of NATO to counter Russia. The Arab oil princes are simply not America's most important geopolitical asset, because the world no longer runs on oil – at least not in the way it did 20 years ago. With climate change bearing down on us and global institutions insisting on carbon neutrality by 2050 (or earlier), oil is shifting from being the lifeblood of human civilisation to a transitional fuel as most countries work toward a green, and therefore a more sustainable, global economy. And this is what underlies the long divergence – which, I repeat, will continue for years and perhaps decades.
You'll have noticed that I mentioned Israel. Much of this analysis applies to U.S.-Israeli relations too. We're past the days of "no daylight", and we're seeing evidence of a divergence between the United States and Israel in the latter's hesitancy to fully take the West's side in the Ukraine war and its continued engagement with Russian oligarchs. The U.S.-Israeli alliance is changing from being primarily geopolitical to merely ideological. But that's a subject for another conversation.
What are the reasons for Saudi and Emirati anger with the United States?
El-Baghdadi:  "Anger" is a strong word, and makes it seem like the tension is new. There are several factors underlying Saudi and Emirati conduct during this crisis. But let's begin by clarifying that while the two countries seem to be aligned, there are important nuances in their motivations, not least because Saudi Crown Prince Mohammed bin Salman and Abu Dhabi Crown Prince Mohammed bin Zayed are quite different characters.
Mohammed bin Salman is, among other things, undisciplined, emotional and often myopic. Using the word "anger" here is apt. For Mohammed bin Salman, a lot of this is about the snub, rather than the strategy. He feels personally injured by his treatment at the hands of the Biden administration – Biden criticised him during his campaign, released the Office of the Director of National Intelligence report assessing that he personally ordered Jamal Khashoggi's murder, and refused to welcome him at the White House or even talk to him. Meanwhile, Mohammed bin Salman truly believes that his international image as a "liberal reformer" can be salvaged if he pays the right people or twists the right arms.
Indeed, our disinformation analysis at Kawaakibi has seen indications – since last December – that Saudi Arabia would use any renewed crisis in Ukraine, and any resulting energy crunch, as a means of rehabilitating Mohammed bin Salman's image. Recall, if you will, events in late February and early March. Saudi Arabia reaffirmed its commitment to the OPEC+ framework (which includes Russia), and then, a few days later, Mohammed bin Salman granted an interview to the Atlantic in which he attempted to rehash his tired old lines about being a "reformer" in a "stubbornly pre-modern kingdom".
While we're talking about Mohammed bin Salman's motivations, it's important to note that he admires Russian President Vladimir Putin, and in some ways, even models himself after him – the decisive strongman who fights corruption, consolidates power and pursues unconventional and asymmetric strategies, such as disinformation and cyber tools. Putin was one of the few leaders who stood by Mohammed bin Salman during his darkest hours – the months following the Khashoggi murder. We still remember that famous high five at the 2018 G20 summit in Buenos Aires.
Nevertheless, it would be wrong to make it seem as though this is simply a matter of personal motivations on the part of Mohammed bin Salman. The UAE and Saudi Arabia have felt insecure about the American commitment to them for a while. The Biden administration has remained true to a long-established trajectory of withdrawal. Yet, in line with his campaign promises about the war in Yemen, Khashoggi and human rights, Biden has also become quite critical of both the Saudi and Emirati regimes. I'd imagine his administration is further constrained by a perceived need to respond to Saudi and Emirati meddling in U.S. politics – recall the Tom Barrack affair, the George Nader affair, and the more recent revelations about Mohammed bin Salman's relationship with Jared Kushner and Steven Mnuchin. The so-called Abraham Accords only went so far in assisting Emirati and Saudi lobbying in Washington.
Given this insecurity about U.S. commitment, they've been trying to diversify their security guarantors for a while. Last year, for example, the United States was dismayed to learn that the UAE had secretly granted the Chinese permission to establish a military base on its soil. Meanwhile, Russian oligarchs have always been welcome in Dubai (and continue to be), while Russian mercenaries have assisted Emirati operations in Libya. But more illustrative is the UAE's outreach to Syria's President Bashar al-Assad, a key Putin ally in the region. This was another decision that "blindsided" the United States.
In short, it's not that Saudi Arabia and the UAE doubt American security guarantees – it's that they are anxious about the protection model. Compare how Putin has protected (and continues to protect) Assad to how the United States protects its Gulf Arab allies. Russia protects regimes; the United States protects states. The Americans are happy to continue to support states, even after a change in leadership. There is no possibility that the United States will flatten cities or use weapons of mass destruction to protect Mohammed bin Salman or Mohammed bin Zayed. Yet Russia helped Assad do just that. In the minds of Mohammed bin Salman and Mohammed bin Zayed, it would be ideal to get both Russian-style protection and U.S.-style protection. U.S. protection alone is not only shaky; it's also insufficient, given the degree of risk that the future holds.
Beyond this insecurity about security guarantees, there are other strategic reasons. Profiting from the Ukraine crisis is a factor, especially for Mohammed bin Salman, given how crucial Aramco's profitability is for his Vision 2030 plans. And it would be nice to use the crisis to build financial reserves – even if this comes at the cost of shifting the relationship with the West from an institutional one to one that is transactional in nature, and risking regional instability due to inflation and energy and food shortages. When you have long-term existential anxiety, sometimes a short-term windfall can really help.
Should we factor in disagreements between the United States, on the one hand, and Saudi Arabia and the UAE on the other, concerning the Iran nuclear deal (including how to designate the IRGC) and the Houthis?
El-Baghdadi: These things should be viewed through the prism of "long divergence". Let's start with the Iran deal. Regardless of Saudi-Emirati anger with the Iran deal, it's happening – in one configuration or another. Not because the United States has warm feelings toward the regime in Tehran, but because U.S. grand strategy requires a re-positioning when it comes to the Middle East. To do this, Washington needs some sort of security arrangement in place that ensures it doesn't keep getting pulled back to put out fires. And it's difficult to negotiate security arrangements with a regime with which you don't have relations.
Trump's shredding of the deal was an exceptional event that was unlikely to have happened had the U.S. president been anyone other than somebody corrupt, emotional, unpredictable and influenceable by Saudi-Emirati money. And as we've seen, despite Trump shredding the deal, he was opposed to any sort of deeper U.S. involvement in the region, or any sort of new war in the Middle East. Many American strategists have since pointed to how harmful his act has been to U.S. aims – it keeps the United States in the Middle East longer.
But all of this isn't helped by the fact that the Saudis and Emiratis are going about things all wrong. They think they can get their primary security guarantor to act against its own interests, and when it doesn't, they think they can force it to do what they want through influence campaigns, lobbying, and pressure – and through outreach to America's geopolitical rivals, Russia and China. So far, I have yet to see them put forward a proposal that is in line with U.S. grand strategy, rather than in opposition to it.
For example, consider how myopic it is to withhold oil if you're trying to convince the United States not to normalise relations with Iran. On America's ladder of priorities, energy security and curbing inflation rank much higher than how Mohammed bin Salman and Mohammed bin Zayed feel. Even the stability of Gulf regimes is only important so long as they ensure energy security. Saudi-Emirati intransigence led the U.S. administration to do the unthinkable – reach out to Venezuela, a "rogue regime" much closer to home. And it should come as no surprise that it also made the administration double down on the Iran deal and even try to accelerate it in a bid to get Iranian oil flowing again, all to stabilise global prices.
But let's talk about the Houthis, the IRGC, and the war in Yemen – the more immediate of the two sources of "anger". Here again, you see myopia. Saudi Arabia and the UAE have been fighting in Yemen for seven years now – and it's been a strategic disaster. The Houthis went from being a ragtag militia in 2014 to a regional force capable of launching attacks deep in Saudi and Emirati territory in 2022. The Saudis and Emiratis cannot vanquish the Houthis; if they want to extricate themselves from the war, they'll have to engage them. Despite their brutality, the Houthis have been and will remain a part of Yemen.
When the Biden administration revoked the terrorist designation of the Houthis, it mentioned that it did so on humanitarian grounds, saying that "the designations could have a devastating impact on Yemenis' access to basic commodities like food and fuel". The administration stopped short of mentioning the Saudi and Emirati role in creating that humanitarian catastrophe in the first place, but it was the sub-text that mattered. When it comes to the war of narratives, and despite all of their public relations and lobbying, the Saudis and Emiratis have lost the war of public perception. And this is despite the Houthis' war crimes, extremism, rampant human rights abuses, and direct links to the IRGC.
In a country such as the United States, whoever wins the story eventually wins the policy, and the "story" here cannot simply be "bought". It can't be delegated to a public relations firm. You don't "win the story" simply by hiring Instagram influencers or building a disinformation network to spin whatever you do. Your conduct must reflect and back up your narratives. I don't know why this is so hard for the Saudis and Emiratis to understand. Recall what happened after the Houthis attacked the UAE earlier this year – the next day, the Saudi-Emirati coalition struck a prison complex, killing over 70 defenceless Yemenis imprisoned by the Houthis.
You'll have noticed that the Houthis have only escalated their attacks during this time; you would have expected them to scale them back if they felt at risk of being redesignated a terrorist group. But their attacks and their targets (oil installations) revealed much about their strategic thinking – or rather, Iran's. They're hitting Saudi oil installations during a time of tension between the United States and Saudi Arabia over oil supply, and with the knowledge that the U.S.-Saudi alliance is defined by oil supply. And they're doing so at a time when the relationship is being questioned by many in Washington, and within the context of a U.S. withdrawal from the Middle East.
Consider what attacking oil installations at this point does for the IRGC. To begin with, if the attack is damaging enough to interrupt production, it deprives Saudi Arabia of some of its own oil supply. Second, it deepens the supply crunch that is driving the need to get Iranian oil on the market. Third, it deepens the crisis of confidence between Saudi Arabia and the United States. The latter would find itself under pressure to come to Saudi Arabia's aid despite the Saudis' oil supply intransigence, and despite the Americans' need for both Iranian oil and an Iran deal to disengage further from the region. Saudi Arabia would also be under pressure – to seek U.S. help while paradoxically waging an oil war on the United States. Normally, this situation would bring allies closer together, but this is happening with Mohammed bin Salman at the helm and with Biden having all those political constraints upon how chummy he can be with him.
For the United States, there's no good outcome here: it can deepen its involvement in Middle Eastern security (something which goes against its grand strategic imperatives); deepen the crisis of confidence between Mohammed bin Salman and Biden; or cut its losses and strike a deal with Iran, with the understanding that if Iranian oil is allowed into the global market, Tehran will halt IRGC attacks on oil installations.
Finally, let's zoom out a bit and look at the scale of the disaster Saudi Arabia and the UAE have created for themselves here. They seem to have thought that U.S. weapons and training could give them the same strategic advantage as the United States when fighting their wars. But when the United States tires of a foreign conflict, it can just withdraw, as it did from Afghanistan. Meanwhile, Yemen will always be next to Saudi Arabia and the UAE. It's a country of 30 million people, almost all of whom are Yemeni, compared to the UAE's 1 million citizens and Saudi Arabia's 22 million citizens. And it's now roiling in trauma and grievance. It will be a crisis – their crisis – for the next generation, perhaps for even longer.
If Saudi Arabia and the UAE are in the midst of a slow-burning strategic decision to re-orient themselves away from the United States, due to the latter's partial disengagement from the Middle East, does this mean that they aren't interested in trying to wring long-term concessions from Washington?
El-Baghdadi: What kind of long-term concessions? And more importantly, with what leverage? What would be meaningful is if they accept the United States' need to draw back its commitments in the region, and proactively arrange a new regional security infrastructure in collaboration with the Americans. That's what Obama was, in a way, calling for when he said that the region must look after its own security. But that's not what's happening. Instead, we see the rise of a new, undeclared Saudi-Emirati-Israeli axis that seems focused not only on containing Iran but also on maintaining counter-revolutionary pressure across the Middle East and North Africa. While the United States appears to be attracted to the prospect of Arab-Israeli co-operation, the current situation portends more instability, not less. Despite the fluff and the spin, the Saudi-Emirati-Israeli axis is an aggressive actor, not a force for peace and stability.
I'm also not sure that they've made a strategic decision to re-orient themselves away from the United States; they simply cannot afford to do such a thing. True, they're trying to situate themselves within emerging great power politics. But the facts are that Putin's Russia is a declining power and has an economy half the size of California's; its only real leverage is nuclear weapons and gas. Meanwhile, President Xi Jinping's China is mercantilist, eschews far-off geopolitical complications, and won't send its children to die defending Mohammed bin Salman and Mohammed bin Zayed. Also, both China and Russia have close strategic relations with Iran.
It's funny seeing the tail trying to wag the dog, but here the tail has decided to go its own way, and is using whatever leverage it has to get back at the dog. It's even signalling to the dog that there are other dogs out there to which it can try attaching itself – witness the invitation to Xi to visit Riyadh. At Kawaakibi, we track all this and have noticed a lot of "If you lose us, you'll lose" and "You need us – it's not only us who need you" sort of thing. The sub-text is "Why don't you want us as much as before? Please want us as much as we want you".
The bottom line is that the Saudis' and Emiratis' strategic thinking vis-a-vis the United States doesn't seem to be about long-term sustainability, but short-term pressure. They are trying to bend the United States to their will as they did during the Trump years, when they tried to use the administration against Iran, Qatar, and their internal opposition. But even with maximum pressure, this had limited results and did not decisively turn the tide. And let's say, for the sake of argument, that they succeed in twisting Biden's arm this time. What's their long-term plan? Where do they see themselves in ten years? In 20 years?
Ultimately, we're left with the realisation that America's relationship with its favourite petrostates used to be institutional and is now transactional. It used to be about long-term alignment but is now about short-term demands. It used to be about trust; now it's about distrust and one-upmanship. We shouldn't underestimate the power of Arab oil reserves – but Arab dictators shouldn't underestimate the resentment they're engendering in the hearts and minds of the average Americans and Europeans. And they certainly shouldn't underestimate the numerous unsustainable policies of theirs that will explode over the next 20 years.
Interview conducted by Rayyan Al-Shawaf
© Carnegie Middle East Center 2022