Turkey's enduring identity crisis
Cografya kaderdir – "Geography is fate" – is a well-known, well-worn phrase in Turkey. The idiom, attributed to the Arab historian Ibn Khaldun, is a familiar saying that Turks utter with a degree of resignation when mulling over circumstances in their country or describing Turkey's uneasy relationship with itself. In short, Turks have ample opportunity to use the phrase. After all, few countries have experienced as many dynamic developments and setbacks over the course of the past century as Turkey.
The Republic of Turkey will begin its second century on 29 October – as good a reason as any to revisit the recent history of the country. Journalist Cigdem Akyol does just that in her book Die gespaltene Republik. Die Tuerkei von Ataturk bis Erdogan (The Divided Republic – Turkey from Ataturk to Erdogan). Over the course of 400 pages and five chapters, Akyol knowledgeably traces Turkey's bumpy path of development in detail.
As might be expected, the first chapter of the book is devoted to the country's founder, Mustafa Kemal Ataturk, his personality and political ideology, all of which shaped Turkey over the course of several decades. "Ataturk founded a completely sovereign Muslim state in a predominantly Christian world, successfully defying the victorious powers of the First World War", writes Akyol of the Treaty of Lausanne, which sealed Turkey's independence in July 1923 and paved the way for the declaration of the republic: "At midnight, 101 cannon shots rang out, heralding the birth of the new state. Turkey was thus the first Islamic country to become a republic".
Turning everything on its head
Akyol describes how Ataturk immediately set about turning the country on its head, moulding and shaping it according to his own ideas:
"While secularisation in Western Europe was a drawn-out process with ups and downs, the impatient Ataturk ruthlessly pushed through change within just a few years. (...) But while the upheaval in Western Europe was a bottom-up development, change in Turkey was imposed from the top down".
Akyol describes in detail the roots of the division alluded to in the title of the book that were nothing short of archetypal and, furthermore, continue to have an impact today. Ultimately, Ataturk's vision of a country on an equal footing with Europe had little to do with the realities of life for much of the Turkish population.
His Westernised style contradicted the religious values of the majority. Drastic changes such as the country's language reform, which was violently imposed from above, and – as Akyol shows – followed a racist logic, were frankly traumatic for many Turks and led to a profound cultural uprooting.
"The Republic was … founded on compulsion – and the compulsion did not end after its foundation. The country's Arab-Islamic roots were abruptly cut off. Instead, citizens were supposed to live as if they were in Paris – ideally without looking back or questioning anything."
Time and again while reading the book, it becomes clear just how the Kemalist elite's attempt to stem or repress religious practice led to counter-reactions, whether in the form of Adnan Menderes, who was close to the people and had a religious focus yet ended up on the gallows, the rise of Islamist parties in the 1990s or, ultimately, the unparalleled success of Recep Tayyip Erdogan.
In this way, readers familiar with the way Turkey tends to be reduced to Erdogan's politics in the Western media are confronted with a broader picture. Such a nuanced understanding of this country, which finds itself in an ongoing identity crisis, is vital if we are to avoid jumping to conclusions.
Comprehensive knowledge of sources
In addition to the chronological narrative, which derives from Akyol's comprehensive knowledge of the sources, each chapter contains a "background" section that addresses recurring themes in the history of the Turkish Republic. In Chapter 1, this background section is devoted to the "Kurdish Question", the unresolved problem that grew out of Ataturk's radical understanding of Turkishness. From the word go, his state ideology afforded little space to minorities. Here, Akyol enriches historical information with biographical anecdotes from the works of Kurdish singers Ahmet Kaya and Aynur Dogan.
References to such personal stories bring a regular change of pace to the book which is, overall, easy to read and follow. Another positive aspect is that Akyol frequently includes quotes from journalists, activists and artists. In interview with the Literaturhaus Berlin, Akyol describes how challenging it was to conduct these interviews, not only due to the unreliability of the interviewees, but also because of the difficulties involved in speaking about sensitive issues in a climate of fear.
Balance breeds credibility
Akyol also includes voices from people with close links to the government, such as foreign policy expert Kahraman Haliscelik. It is this balance that makes the book not only credible but also sets it apart from general reporting on Turkey, particularly in Germany. Nevertheless, it must be said that Akyol does look at Turkey from the outside and from a German perspective.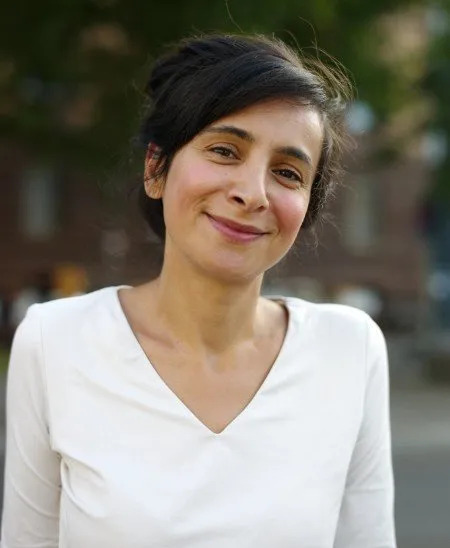 In interview with Swiss television, she describes her appointment as a correspondent in Istanbul as "pure coincidence", especially as her professional focus had initially been on Eastern Europe, China and later Lebanon.
Cigdem Akyol grew up the child of two guest-workers in Germany's industrial Ruhr region, studied Eastern European history and international law in Berlin and Moscow and worked as a correspondent in Istanbul.
Her first book, Erdogan: Die Biografie (Erdogan – The biography), was published in 2016. Akyol now lives in Switzerland, where she works for the Wochenzeitung newspaper as a reporter specialising in international issues.
Sometimes, this view from abroad is noticeable. Akyol dedicates an entire background section to the partly superstitious and orthodox interpretation of Islam by Turkey's Directorate of Religious Affairs (Diyanet), but there are increasingly critical groups of Muslims in Turkey who are concerned with the heritage of Islamic science and mysticism, for example.
Sufism, which was heavily impacted by Ataturk's closure of the mystical orders is only mentioned in a marginal note on rural Islam, and yet it has become an important intellectual and spiritual force in today's republic.
So while the fault line between the secular and the religious is indeed important, the various shades that do exist occasionally get lost in the narrative. That said, Akyol does capture such nuances particularly well in the section on the headscarf debate, which is often conducted on the basis of cliches both in Turkey and in Germany.
For this section, she spoke to two feminists: one who got fed up with being compartmentalised and therefore decided to stop wearing a headscarf, and another who still wears the headscarf, but resists all claims by the Turkish government that it speaks for hijab-wearing women.
Ultimately, the reader is left with the impression of a highly complex nation whose endurance is repeatedly being tested. The reader is also left with a certain admiration for the resilience and self-confidence of a country that has, despite all the innate defects that plague it to this day, single-mindedly followed its own path on the margins of Europe.
Akyol's book is a valuable contribution to understanding not only Turkey but also the areas of tension – both internal and external – engendered by humans since time immemorial that have shaped the course of their history.
© Qantara.de 2023
Translated from the German by Aingeal Flanagan
Cigdem Akyol, Die gespaltene Republik. Die Tuerkei von Ataturk bis Erdogan, published in German by S. Fischer