"You have not yet been defeated"
There is a simple trick for twisting the truth, the Palestinian author Mourid Barghouti once wrote: don't start at the beginning; start your story with what happened afterwards. Start with arrows fired by the indigenous people and the whites with their guns become the victims. Start with "secondly" and it will be Gandhi who is to blame for the tragedies of British colonialism. But if you're trying to get at the truth, you need to go return to the very beginning.
Of course, there are plenty of arguments to be had over what constitutes the beginning of a historical development. Was it the military coup of 2013, for instance, which gave rise to Abdul Fattah al-Sisi's authoritarian regime? Or the Egyptian revolution during the "Arab Spring" two years earlier? Or before that, even, Mubarak's repressive regime that kept Egyptian people subjugated for decades, which itself ultimately followed on from British colonial rule?
But there is another reason that Barghouti's appeal doesn't always work for the Egyptian activist and left-wing intellectual Alaa Abd el-Fattah: "Mourid Barghouti tells us not to start the story from the middle. But some events force us to start with them," he writes in one of his texts, now collected and published in book form – "You have not yet been defeated" – over 450 generous pages. Abd el-Fattah sees 14 August 2013 as one such event.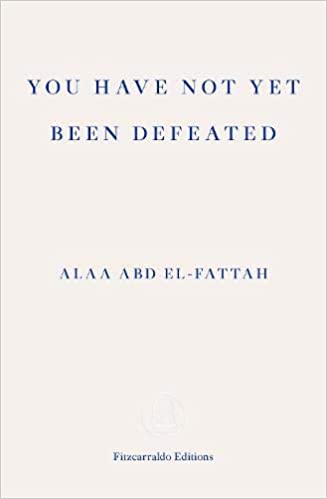 Everything that went before and everything that came after pales in comparison to that day, when Egypt's current military dictatorship was born.
"A new starting point has been imposed on us," writes Abd el-Fattah. "From now on we will have to live with this, the biggest massacre in our history."
That Wednesday, security forces killed more than 800 people, perhaps over a thousand, when they broke up two protest camps in Cairo. That 14 August has gone down in history as the Rabaa Massacre, named after one of the camps.
In an outer district of Cairo, followers of the Muslim Brotherhood had been demonstrating against the military coup and the resurrection of the dictatorship that followed the 2011 revolution. Under the direction of the current president, the leaders of the coup put an end to the uprising.
"Most of us are in denial, a lot of us are telling ourselves that this was necessary, but the number and the bodies of the martyrs condemn us all," Abd el-Fattah writes. "We will never be able to escape Rabaa."
No friend of the Islamist project
If you're thinking that this solidarity with the Islamist victims implies sympathy for the Muslim Brotherhood, you would be mistaken. Abd el-Fattah leaves readers in no doubt about his personal, freedom-based opposition to the Islamist project – but he refuses to dehumanise his political opponents, who are also opposed to the military regime.
"Tolerating the demonisation of the Islamist movement, smearing them, going along with calling them derogatory names like 'sheep', all this paved the way to the massacre." As difficult as it may be to acknowledge the suffering of others, this is a crucial step.
"[T]heir ideology is a disaster", he writes of the Islamists, but "they are oppressed and we must speak out about the abuses against them".
Abd el-Fattah, meanwhile, has plenty of his own suffering to draw on: except for a few brief periods, the man who is arguably the most prominent Tahrir Square activist – now 40 years old and father to a son – has been locked up since 2013. This allows him to give a vivid picture of life inside Egyptian torture prisons.
"The cruellest form of humiliation," he writes, "is known as the Guard of Honour: where new inmates have to crawl between two rows of policemen who rain down kicks, punches and abuse on them." Its aim, he says, is to force the prisoner into fully accepting a life with no will of his own, though the degree of humiliation also corresponds to the prisoner's class.
"If you're classified as someone without protection, you'll be vulnerable to extreme humiliation and violence from that first moment. The intensity of the humiliation will decline with time, but the terror of those first days will never fade."
Since Abd el-Fattah is also currently in prison, friends and family have pulled together his writings for this book, where they are ordered chronologically from 2011 to 2021. The result is a textual potpourri: letters from prison sit alongside individual tweets or Facebook posts; newspaper articles alongside transcribed speeches or interviews. His early thoughts on the revolution are still illuminating today. They reveal a mind that goes far beyond the usual regime opponents.
Abd el-Fattah digs deep. He writes, for example, about metro workers who threaten to go on strike in solidarity with the railway workers. "The solidarity strike is the most dangerous thing that the regime faces," he concludes, "when a worker strikes for someone else's demands because he's aware of how their situations are connected, that's the politicisation of the labour movement we need".
There is one remarkable article from 2011, written shortly after the revolution, in which Abd el-Fattah draws lessons for the process of creating Egypt's constitution from the South African struggle for freedom. Like the concept of a revolution that goes beyond a transformation of the political system and requires a revolutionary identity, he also gives the concept of constitution an identitarian, procedural character. "We first need to abandon the idea that drafting a constitution is a simple matter, one that a few experts can make short work of". South Africa, he points out, has trodden an arduous path of political consciousness-building.
Abd el-Fattah points out that in South Africa, thousands of volunteers travelled around the country before the Congress of the People agreed the famous Freedom Charter in 1955. The activists listened to what ordinary people had to say and gradually extended the fight against apartheid to social and economic issues. The Freedom Charter first became a kind of statute for the anti-apartheid movement and, four decades later, an essential point of reference for South Africa's current constitution.
As we know, history took a different turn in Egypt. A "social contract" that would become a part of Egyptian identity was never made. In the polarised atmosphere that followed the Rabaa massacre, the military leaders rushed through a document that was drafted by a broad-based constituent assembly and was adopted via referendum in 2014. Abd el-Fattah's scepticism towards the legitimising power of systems of representative democracy becomes clear when he comments that he's afraid citizens' participation ends at the ballot box. "[T]he elites think it's their destiny and their right to be elected, and sometimes confuse being an elected representative with being a guardian of the people."
A gloomy analysis of present-day Egypt
Abd el-Fattah still doesn't see true reconciliation or a shared identity. Between 2019 and 2020, he appeared at ten hearings in front of the public prosecutors, in which he laid out his political thought and his analysis of politics and society in Egypt today, under the authoritarian regime that Sisi has reconstituted. His lawyers wrote these thoughts down, transcribing the words he spoke before the state prosecutors and passing them on to his family. Abd el-Fattah turned these repeated summons into the only public platform that remained to him.
His analysis is gloomy: all trust has been lost between the political class and the people, which poses a serious threat to Egypt's stability. Multiple crises have left the country in a situation in which state institutions are entirely preoccupied with disguising their various repressions, which in turn have become an end in themselves. "The conflicts, polarisation, terrorist activity and grinding economic crises" of recent years, says Abd el-Fattah, "have resulted in a situation where the various components of the political class do not trust each other […]. Every institution in the country now engages with crises through a security mindset only, so it's difficult to see how the current system can last."
Evidently, in contrast to socialist dictatorships or even the Nasser regime in Egypt, under Sisi the country lacks any shared foundation, in the shape of a widespread conviction or ideology, for example. "The Egyptian state seems unable to seriously control people's thought. What exists now has a very limited impact on people's imagination."
The crisis is so all-encompassing, he explains in a surprising statement, that he has come to take a new stance on things since he's been in prison: "Despite my radical opposition to the person and the administration of President Abdul Fattah al-Sisi, I am no longer of the view that we should seek an immediate end to his rule." Instead, Abd el-Fattah declares himself in favour of gradual change, a "devolution" of the presidential dictatorship, with the first step being the government abiding by its own rules. But the author's ideas on how Egyptian society can be led out of the present crises through a series of national conferences remain very vague.
Blunt thoughts on Palestine
What Abd el-Fattah calls for convincingly in much of his writing – solidarity and empathy even for those who hold different political opinions, and an internationally coordinated struggle against injustice – stops at a particular point: the border with Israel. His statements on Palestine, a country to which he was able to travel twice while he was a free man, are admittedly something of a sideshow to the book's main thrust. But his emotional writing in these texts, which borders on kitsch, and the fact that he doesn't make the slightest attempt to see things from another perspective here is surprising. Abd el-Fattah doesn't consistently avoid the word "Israel", but he does often speak merely of "the enemy" or "the Zionists". And suddenly, the reflective quality that makes this such a strong book falters.
Abd el-Fattah's thought experiment on whether it would have been better to remain in the Gaza strip and enjoy a life in exile – "in freedom", as he puts it – comes across as strangely naive. The idea that Hamas, "the resistance", would be just as ill-disposed towards a critical figure like him as Egypt's military regime is, evidently didn't cross Abd el-Fattah's mind as he wrote these lines. In this context, his poetic and oft-repeated "I am an Arab, and Palestine's always on my mind" seems surprisingly blunt.
Nevertheless, in this volume of selected works, Alaa Abd el-Fattah emerges as a political observer who has documented and analysed Egypt's tragic history since the Arab Spring like no one else; someone who does not only look deep into his own society, but sees the bigger picture beyond Egypt's national borders.
Abd el-Fattah is one of those intellectuals who in free societies stimulate important debates and are awarded prizes, one of those minds who rub people up the wrong way again and again, but ultimately take their country forward. In December, a court in Cairo sentenced him to another five years in prison. His offence: spreading false news and lies, and misusing social media.
© Qantara.de 2022
Translated from the German by Ruth Martin