Where's the ethnic diversity?
Muller, Braun, Schulze and Scheuer ... names that are about as German as it gets and names that no one will be surprised to find on the roll-call of 15 ministers who make up the new German cabinet. Unlike the German football team, however, where non-German sounding names have long been par for the course, you won't find any Boatengs, Mustafis, Ozils or Khediras in Angela Merkel's new team of ministers.
This is a sobering and frustrating development for all those who would like to see Germany's history as a country of immigration reflected in its most senior ministerial portfolios. Aiman Mazyek, chairman of the Central Council of Muslims, did not let Merkel's appointments to her fourth cabinet go uncommented: everyone is represented, he tweeted, except Germans with migrant roots.
Once the ministers had taken office, Mazyek clarified his tweet: "I was not making a hostile criticism, but merely a laconic observation that the new federal government obviously has few or virtually no migrant roots." The make-up of the new cabinet contrasts sharply with the reality of German society: depending on what statistics you choose, either one in four or one in five German citizens has a migrant background.
A step backwards for integration policy?
Although Katarina Barley of the Social Democrats (SPD), Germany's new Justice Minister, holds dual German and British citizenship, she is hardly an accurate reflection of this diversity. This is why Aydan Ozoguz, Social Democrat member of parliament and former minister of state for integration, sees Merkel's cabinet as a step backwards for integration policy. "So many things were taken into consideration: regional distribution and the balance between men and women. Unfortunately, no attention was paid to the representation of Germany as a country of immigration."
Ozoguz went on to say that she doesn't think this lack of diversity in the cabinet is a coincidence. "I don't think there were any bad intentions at work here, I just think it is an expression of political insecurity." The fact that there is no-one with a migrant background in the cabinet is a reflection of a changed societal reality where "integration themes are on the retreat".
At the moment, anyone who works for integration should not expect a slap on the back; they might even get a punch in the face for their trouble, she added. "For quite some time now, hatred has not just been stirred up against refugees, but against anyone with any history of immigration in their family, even if they have already become German citizens or were born here."
Breaking taboos
Ozoguz, who was born in Hamburg in 1967 to Turkish parents who ran their own business, has first-hand experience of the climate of hate and rejection. A senior member of the AfD party denied that Ozoguz – a German citizen with Turkish roots – could be German and said he would like to "dump her in Anatolia".
Ozoguz is certain the vast majority of Germans roundly reject this racist remark. Nevertheless, she says pensively, breaking taboos in this way has a negative impact on the way people interact with each other. "It is possible that politicians feel that they can't at present score many points with the issue of diversity."
If this assessment is right, she says, it would be a tragic state of affairs. "Now is the time to nail our colours to the mast and prove that we are a country that sticks together and that we will not be driven apart." For this reason too, she views a cabinet without members who have experience of immigration as a "massive mistake" on a strategic level.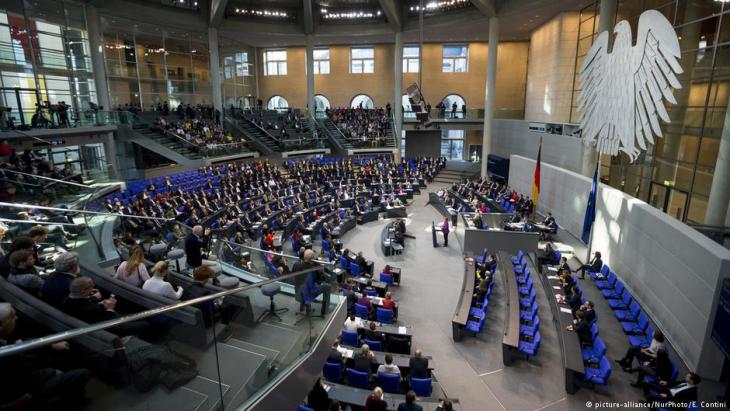 Diversity lacking in parliament too
The cabinet is not, however, the only political stage that inadequately reflects German society. In the German parliament too, the proportion of members with a migrant background is far too small compared with the proportion of this group in society. According to the Mediendienst Integration media service, just 57 of the 709 members of Germany's parliament have personal experience of integration. Of this number, 14 have Turkish roots. That is just 8 percent of all parliamentary seats.
To ensure proportional representation in parliament of the 18.6 million people in Germany with an immigrant background, almost one in five seats would have to be held by people with such a background. The situation in the federal administration is similar. Here too, there is still "much room for improvement" in terms of diversity, says Ozoguz.
"It is now a question of will. A proper campaign has to be launched to show that we want these people to work for us." However, given the current atmosphere in society, she is not convinced that a diversity campaign such as this would at present be well received. Instead, she reckons that "for many people with an immigrant history, the feeling of not being wanted is likely to increase." Already, she adds, Germany has been "thrown back several years" in terms of integration.
Ozoguz feels that Germany should look to international companies to find out what to do next: "It's par for the course that really successful companies have a multicultural workforce. They use the resources of staff members who speak different languages and are familiar with different cultures." This could easily be viewed as a sideswipe at Angela Merkel's cabinet choices.
Richard A. Fuchs
© Deutsche Welle 2018
Translated from the German by Aingeal Flanagan