Forces unleashed in the Middle East
More than 1,000 Israeli civilians have now fallen victim to the sadistic bloodbath perpetrated by the Palestinian Hamas. The German government must declare its sympathy for the victims' families and its solidarity with the grieving nation. It must condemn the terrorist acts and offer concrete support to Israel. It must underscore Israel's right to self-defence. And it has done just that. 
But Scholz's government and German policy overall, like that of other Western states, have also taken a decisive and possibly fatal step beyond that. They are granting the right-wing nationalist Israeli government under controversial Prime Minister Benjamin Netanyahu a free hand in the war against the Gaza Strip, which Hamas controls and from which its terrorist troops set out on the morning of 7 October to wreak their massacre.
Washington, Berlin and other Western capitals are signalling to Netanyahu that he can go ahead and wage war on Gaza however he sees fit. The head of the Israeli government has no reason to expect any criticism. In effect, the Western allies are thus encouraging Netanyahu to act without restraint, with consequences that are impossible to foresee. This Western carte blanche, which Olaf Scholz signed onto without hesitation, is questionable for a number of reasons.  
Prime Minister Netanyahu has made it clear in word as well as deed that he intends to unleash his unbridled forces against Hamas, in defiance of the international laws of warfare. The excessive bombing of residential areas and the cutting off of electricity, fuel, food and water make it clear that all two million residents of the isolated coastal strip are targets in this campaign.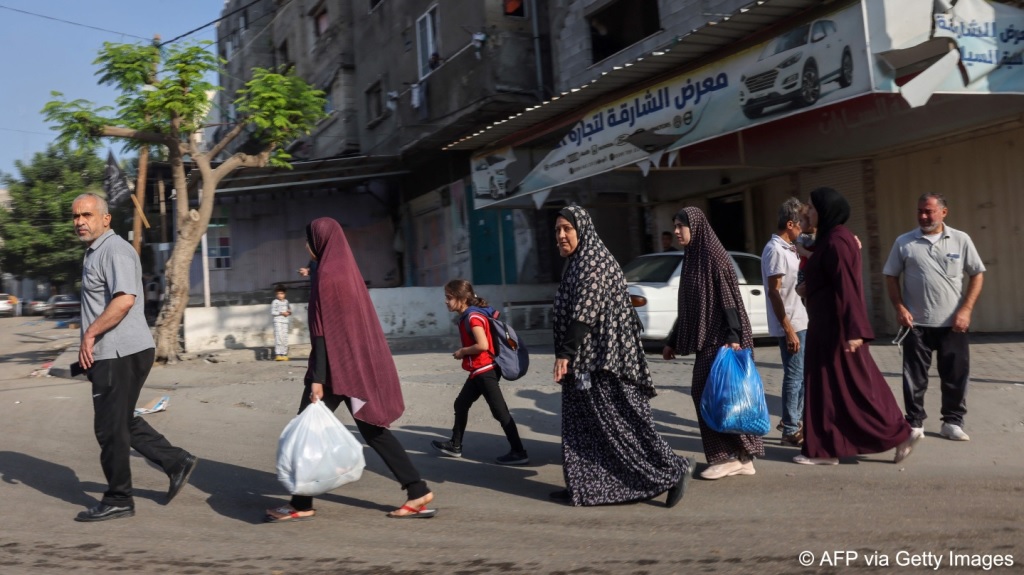 Gaza: cut off from the outside world
In his first public statement after the Hamas assault, Netanyahu called on the residents of Gaza City to evacuate. This raises the question of where these people are supposed to go in the most densely populated region on earth, which has been cut off from the outside world since the Israeli air force started bombing not only the city of Gaza but all parts of this Palestinian territory.
This demand was followed a few days later by a call for residents of the entire northern Gaza Strip, more than a million people, to leave their homes. This is tantamount to a mass expulsion. In a dialectic borrowing from Mao, Netanyahu seems to view Gaza as a pond that he wants to drain in order to destroy all the fish in it, in other words, Hamas.  
Netanyahu literally announced that the counterstrike by Israel would reverberate in the ranks of the enemy for several generations to come. His defence minister, Yoav Gallant, meanwhile had himself filmed ordering officers to take off their kid gloves.
Finance Minister Bezalel Smotrich, a religious nationalist firebrand, has for his part stipulated that the fate of the abductees – more than 100 Israelis held hostage in Gaza by Hamas terrorists – not be given too much consideration in the conduct of the war.
On media channels that echo the religious nationalist sentiments of the Netanyahu government, in particular the TV channel "14", "experts" and "analysts" are calling for razing the entire Gaza Strip and finally giving up the competition for the status of "most moral army in the world". In short, there are enough signs indicating that the military campaign will be ruthless. Should Netanyahu and his people really be encouraged to take this path? 
No political agreement
The Israeli population is unanimous with regard to their horror at the murderous brutality of the 7 October attack. Hundreds shot down, families wiped out, children slaughtered, desperate people hiding from the cold-blooded murderers in closets and rubbish bins – this all brings back the bitterest memories of the Shoah. But not much is being said about these associations. Which only reveals that they are definitely present. Agreement on the horrors perpetrated must however not lead to the assumption of political unity. The opposite is actually the case.  
Since the war began, many well-known figures have called on Netanyahu to resign: former Chief of Staff of the Israel Defence Forces Moshe Yaalon, historian Yuval Harari, political commentator Yossi Werter.
The journalist Zvi Bar'el, a specialist on the neighbouring Arab nations, is critically enquiring into what will happen to the lives of the Palestinians in Gaza after the campaign and what the repercussions of the destruction of Gaza will be for Israeli society.
His colleague Amos Har'el has pointed out that Netanyahu's entourage is trying on social media to blame the unimpeded incursion by Hamas into Israeli territory on those who have been demonstrating against Netanyahu for the past several months.
Even in times of war, Netanyahu is sowing hatred in his own society. The historian Moshe Zimmermann speaks of a "failure of Zionism". The State of Israel is a promise to its citizens that they are safe there from pogroms against Jews, he says. And Netanyahu has now broken that promise.  
Netanyahu's legitimacy has been undermined
The truth is that the state was not there to protect its citizens on that deadly morning. And there is reason to suspect that Netanyahu has weakened the state with his government of fanatics. He fills high posts according to personal loyalties rather than demonstrated competence. The appointment of Gal Hirsch as special representative for the abducted and missing is the latest example. Netanyahu's legitimacy has been undermined. Even the formation of an "emergency cabinet", which has been joined by opposition politician and former defence minister Benny Gantz, cannot belie this fact.  
And yet, Western allies from Washington to Berlin are pretending that Netanyahu is unchallenged and they are giving him the green light to launch an unbounded counterattack in Gaza. It's as if Biden, Macron and Scholz had suddenly forgotten that they are dealing with a partner who loves to play with fire.
A basic rule of international humanitarian law: war crimes by one side do NOT justify war crimes by the other. Just because Hamas fired indiscriminately on Israeli civilians does NOT justify Israel firing indiscriminately on civilians in Gaza. https://t.co/t7R6afOnQK

— Kenneth Roth (@KenRoth) October 8, 2023
The Western governments are thereby deftly dodging the urgent question of whether Netanyahu still represents Israel at all. He himself, in his inimitable fashion, is taking advantage of the encouragement he is personally receiving from world leaders to consolidate his politically battered position.  
A few Western commentators have even spoken of "Israel's 9/11". Venturing below the surface, this comparison might even be instructive. Because 11 September 2001 was followed by the "war on terror", with consequences that are well known. With its military overreaction, in particular the costly and counterproductive occupation of Iraq, the United States ended up jeopardising its global pre-eminence, if not even forfeiting it entirely. Cognizance of these events alone could have led to certain qualifications of the expressions of solidarity with Netanyahu regarding the war of retaliation in Gaza.   
Such thoughts seem however to be far from Chancellor Scholz's mind. In his government statement, he referred to Israel's military action as a case of "self-defence". Just how broadly does Scholz actually define this term, one might ask.
"At this moment there is only one place for Germany, and that is at Israel's side. This is what we mean when we say: Israel's security is in Germany's national interest," Scholz declared in a speech before the Bundestag. He added that Netanyahu should let Germany know what he needs, and it would then be "granted" to him. This shows the extent to which the doctrine that Israel's security is in Germany's national interest, an idea that originated with Angela Merkel, has now become a blank check. 
Olaf Scholz's coalition government has set out to limit immigration into Germany. This goal is now endangered by the escalation in the Middle East. An unrestrained war of retaliation in Gaza could produce hundreds of thousands, if not millions of new refugees making their way to Europe. A major question has long been looming on the horizon: namely, whether accepting Palestinians from Gaza and even perhaps from the West Bank is also in Germany's national interest. 
© Qantara.de 2023
Translated from the German by Jennifer Taylor  
The author studied Arabic language and literature at Tel Aviv University from 1993-95 and then worked as a journalist in Israel and the Palestinian territories until 1999. He speaks fluent Hebrew and Arabic. Today he works as a television journalist for the ARD magazine Panorama