The first digital Palestinian embroidery database
Zain Masri still remembers the vibrant feeling of completing her first cross-stitch motif at the age of 7. "For years, it remained my favourite holiday activity at my grandmother's place in Jordan," said the 31-year-old. 
Masri, who works in marketing in Dubai, reconnected with her family tradition of cross-stitching Palestinian patterns during the pandemic. "I joined online embroidery communities for inspiration while spending lots of time at home," she said. Masri quickly realised, however, that a shortage of high-resolution patterns was one of the main challenges for the global embroidery community.
"There should be a place for digitalised, printable and freely available patterns as this is cultural heritage," Masri thought and wondered why she should be waiting for someone to launch such a database.
And so, some 24 years after her grandmother introduced her to tatreez, which is the Arabic term for this traditional type of Middle Eastern needlework, Masri started Tirazain, the first digital embroidery database of traditional Palestinian cross-stitching patterns including the information on their origin and aesthetic features. Typical examples are palm trees, jagged patterns in different colours or patterns that resemble tiles on the Noble Sanctuary or Haram al-Sharif in Jerusalem.
Embroidering for emancipation in Palestine
Three thousand years of women's history on a dress: "tatreez" is an Arabic word for a unique style of Palestinian cross-stitch embroidery. Distinguished by rich colours and textures, it originated in the Middle East some 3,000 years ago. As photographer Fatima Abbadi explains, the craft has always been exclusively a women's territory and it's been passed down from mothers to daughters like family recipes influenced by each generation

A coded language: for Palestinian women, tatreez is not just a pastime and decoration. It consists of hundreds of symbols; their variations convey anything from the wearer's social, health and marital status to her current mood. A blue pattern, for instance, reports about woman's widowhood, while red crosses inform the surroundings that the mourning period has ended

Clothes can feed a family: the patterns differ from region to region and their legacy is not treasured only by museums. In the past, many families set aside such attires and sold parts of them in times of crisis. A sleeve might have been enough for emergency treatment and the entire garment could have provided for a child's education. "Those are memories that come to life with each embroidered dress," says Abbadi

From refugee camps to the whole world: with the displacement of Palestinians during the 20th century, tatreez gained a political dimension – it is often the only source of income for women living in refugee camps. Programmes such as "Darzah" or the EU-funded "Tatreez" help them set up studios and develop and export products to the West. They also learn how to build and maintain a business, an important skill to achieve emancipation

How to make a tradition fashionable: in order to succeed on the international market, however, tatreez must be trendy and contemporary, which is why young fashion designers add new colours and even embroider European garments. Thanks to the brands such as All Things Mochi or SEP Jordan, which operates from a refugee camp in Gaza, tatreez is now stocked by high-end retailers and even made an appearance in Vogue

On the brink of extinction: such initiatives help Palestinian women support their families and improve the quality of life in the camps but also ensure that the art does not disappear due to the current harsh economic, social and political situation in Palestine. After all, tatreez is a symbol of national identity first and foremost. "The embroidery always appears during holidays, weddings or festivals," describes Abbadi

Stories of an endangered art: still, it is difficult to keep the tradition alive in the reality of diaspora. "My project aims to document the current state of the craft in an attempt to preserve it for future generations," says Abbadi. And she is not alone: Wafa Ghnaim's book "Tatreez & Tea" from 2016 also focused on its heritage, while tatreez has even made it to galleries in the U.S. thanks to contemporary artists such as Jordan Nassar
Only, creating such a database turned out to be much more time-consuming than expected. Since none of the existing digitisation software options were accurate enough to decipher the stitches automatically, Masri started to break down motifs manually on digital grids.
"I've spent thousands of hours digitalising motifs stich by stitch," she said, adding that this makes them printable for manual cross-stitching and downloadable for machine embroidery.
Meanwhile, around 1,000 such patterns are available for download on her database, which has been slowly growing since October 2021 and was only officially launched this summer. Her breakdown of statistics show that already more than 1,000 people access the patterns every day, and the community is growing.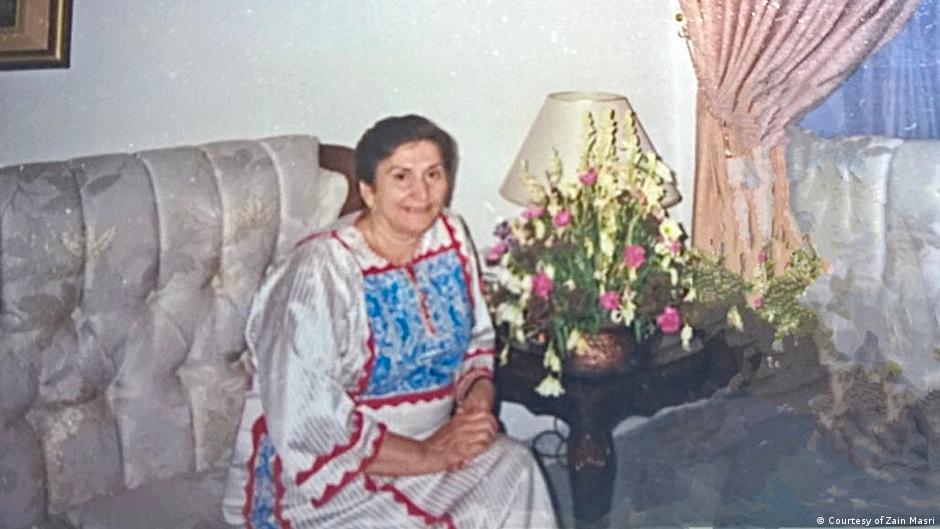 Palestinian embroidery: 'Intangible cultural heritage'
While cross-stitching on dresses and fabrics has a long tradition throughout the Middle East, with the earliest findings dating back to ancient Egypt, Palestinian embroidery carries additional significance. This was recognised by the United Nations Educational, Scientific and Cultural Organization, or UNESCO, who put the art of Palestinian embroidery on the Representative List of the Intangible Cultural Heritage of Humanity in 2021.
"In the Palestinian culture, embroidery was always used as a story-telling technique," Masri said, adding that "according to the embroidery and the colour of the thread, you could tell exactly where a woman is from, if she is single, married, if she has children, is divorced or if she is a widow."
For example, when a woman got married, her main, and often only, dress was embroidered with a red thread. Then, when the woman got pregnant, the same dress was temporarily altered with fabric patches on the sides, and later cut around the chest during the period of breastfeeding. Each alteration was complemented with cross-stitching.
"When the woman got divorced or became a widow, motifs in darker colours were added and, over time, this dress depicted her personal life story," Masri said. "These dresses have become family treasures as they tell the story of the women in the family."
Menswear, however, never really carried the same traditional embroidery. The only exception was an embroidered handkerchief, which was usually prepared by the future wife for her groom.
Other typical embroidered items of the dowry were pillow covers or decorative items for the household. Zain Masri, who was born in the United States, happily points to her two cross-stitched pillows on the sofa in her living room. "I love textile art and these are just so beautiful," she said.
Award-winning women empowerment
While Tirazain is Zain Masri's first private passion project, which won Bronze for the Best Community Engagement in Education, Art and Culture at this year's Anthem Awards, it is not the first time her projects that promote digital literacy and economic empowerment for Arab women have attracted attention.
For example, her digital skills education programme "Maharat min Google" (Building capabilities with Google) has reached almost two million people in the Middle East, and her YouTube Balata project, a content hub that features hundreds of women entrepreneurs in the Arab World, is widely acclaimed in the Arabic speaking region. 
Over the past couple of years, Zain, who moved to Dubai in 2009, was selected to the Forbes 30 Under 30 list, and the Arab America Foundation 30 Under 30 list. She has also been appointed a UN Women Advocate and an IMF Youth Fellow. Her two grandmothers in Jordan have much reason to be proud of her.
"I know that for them, understanding the database is far-fetched, but when I showed them some of my finished pieces, they immediately connected with the patterns," Masri said, adding that "our family tradition lives on, online and offline."
Jennifer Holleis
© Deutsche Welle 2023