Ali Akbar Khan – sound of the soul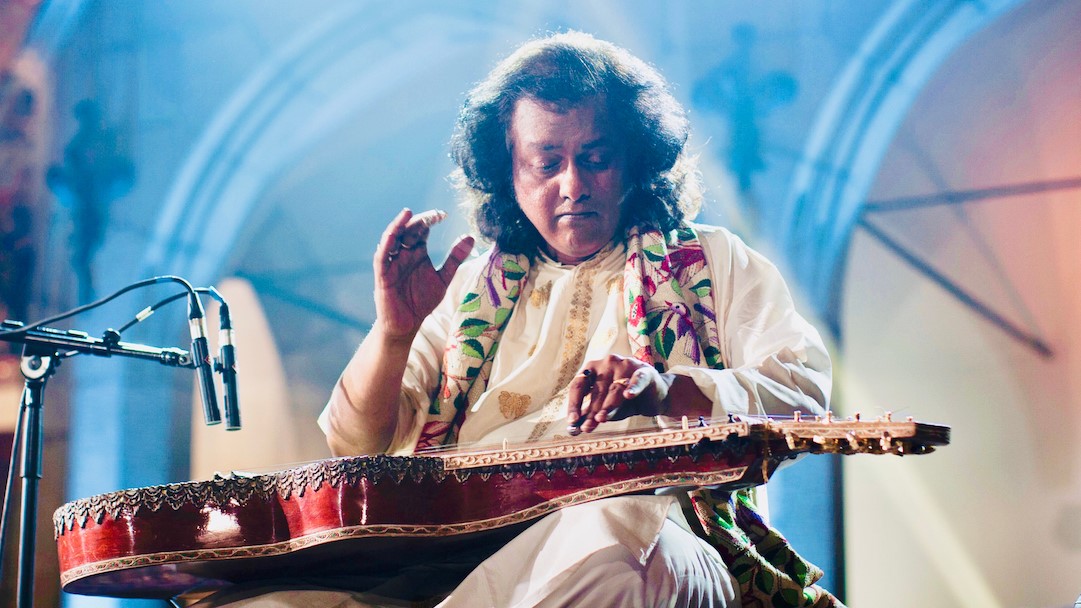 Ustad Ali Akbar Khan was born in April 1922 in what is present-day Bangladesh. Like many musicians from that era, music was in his blood. His father, a renowned teacher and musician, was court musician to the Maharajah of Maihar – Madhya Pradesh in contemporary India. While Khan received training in various instruments and vocal composition from his father, he eventually focused his attention on mastering the sarod.
The sarod is a fretless stringed instrument played in Hindustani music. Its name is derived from one of either two Persian words: sorud – meaning either song, melody or hymn, or sorudan which can mean to sing, to play an instrument or even compose. Alternatively some scholars suggest the sarod was simply named after the shahrud – a kind of bass lute whose name translated as king of the string.
Muslim influence on classical Hindustani music
While its etymology is interesting, and reveals the Muslim influence on classical Hindustani music, what's important in the context of this record is that an instrument without frets is ideal for the playing, and composing, of music where the fingers move, or slide, up and down the fret board. Bhattacharya's trademark style combines Hawaiian slide guitar with classical Hindustani music.
Bhattacharya has managed to merge these very distinct musical techniques by creating the chaturangui – a lap steel guitar that has been expanded to include two additional bass strings on the actual fretboard and sixteen sympathetic strings – that is, strings that will resonate as the other strings are strummed.
With his love of slide techniques, and his mastery of the slide instrument, it is only fitting Bhattacharya has created four new pieces of music to honour Khan, who himself played an instrument  that was so amenable to this style of music. Obviously the sound of the chaturangui is different to that of a sarod, but the spirit is the same.
Spirit of invention
Since Ali Akbar Khan not only opened one of the first schools in the U.S. teaching Hindustani music, but also performed at such seminal events as former Beatle George Harrison's Concert For Bangladesh in 1971, the fact the chaturangui bridges European and Indian music is important.
With Bhattacharya being sympathetic to the sensibilities that allowed Khan to perform and record with people like Yehudi Menuhin and Western pop musicians, the music can't fail to capture the spirit of invention that must have characterised Khan's work.
The Sound of the Soul reveals a virtuoso giving free rein to his talent and inventiveness.
At first listen, you would never know that every piece on the album is in fact Bhattacharya playing, accompanied merely by a solitary tabla or pakhavaj player (a barrel-shaped, two-headed drum usually laid across the percussionist's lap). Akhilesh Gundechha plays pakhavaj on the opening track – "Ever The Flame Burns" – while Swapan Chaudhuri plays tabla on the remaining three: "To His Lotus Feet", "The Sound of the Soul", and "Colours of Joy".
While each of the four tracks show off Bhattacharya's brilliance, the nearly forty-minute-long "To His Lotus Feet" forms the heart of the album. While Lotus Feet is a metaphor for the wisdom of the gods, and disciples are said to plant their master's lotus feet in their heart in order to fully grasp their teachings, we can extrapolate upon that and see this piece as a meditation on Khan's music. In the tradition of Hindustani classical music a student is immersed in a master's teachings in much the same way someone would learn from a leader in any field – be it spiritual or temporal.
Whatever the background to the title, this is an amazing piece of music. Bhattacharya is able to make his Chaturangui soar and flow so eloquently there is almost no sense of time passing during the song. The wash of the sympathetic strings, the intricacies of his slide work and his use of tempo are so intoxicating you become totally immersed in the sound.
A transcendent experience
Layer upon layer washes over you and you can't help but be carried away to another place. There's a lot of music which lays claim to being spiritual or uplifting, but there's not much that manages to offer as transcendent an experience as Bhattacharya does. Seemingly without effort, he carries you out of your surroundings into a world of beauty and contemplation.
The percussion work of Gundechha and Chaudhuri provide the backbone for Bhattacharya's improvisations. Sometimes the sound of their playing retreats into a background rhythm, sometimes they emerge into the forefront of a piece. In either case the relationship between the instruments is harmonious and beautiful. You couldn't imagine one existing without the other.
I've heard many people play a type of chaturangui, but nobody can touch Bhattacharya in terms of the elegance and soulfulness of his playing. If you've never heard this instrument played before, you'll be amazed at how the combination of steel-stringed slide guitar and sympathetic strings, more commonly associated with the sitar, can work so well together.
Each of the four tracks on the album provide listeners the opportunity to contemplate the legacy of Ustad Ali Akbar Khan. Hold each song's title in your mind and heart and allow yourself to drift away into the music. It will be as if you're meditating on his accomplishments.
With The Sound of the Soul, Debashish Bhattacharya has created a beautiful and fitting tribute to one of the great masters of Hindustani classical music. You may not know much about the Khan, but you will gain a new appreciation for both his and Bhattacharya's music having listened to this release.
© Qantara.de 2023