President Erdogan and the shifting sands of geopolitics
When, on 25 October, President Recep Tayyip Erdogan said that Hamas was not a terror organisation, but a group "fighting to protect their land and citizens", no one was really surprised.
But some were disappointed. Especially, those who thought Ankara would continue with its initial stance to stay neutral, constructive and restrained. 
On 7 October, after Hamas launched its unprecedented attacks on Israel, the Turkish Foreign Ministry said in a statement that it "strongly condemned the loss of civilian lives" and called for restraint from both parties, announcing its readiness to ease the situation. 
In the initial aftermath, Turkey hoped to position itself as a pivotal player in resolving the current hostage crisis. Turkish Foreign Minister Hakan Fidan engaged in some shuttle diplomacy in the quest for a solution, hoping to rely on Ankara's unique relationship with Hamas. 
Relations between the two parties had gradually become closer, especially following Hamas' election victory in the Palestinian territories in 2006. This success was not recognised, however, by Israel or the West. At the time, Erdogan's Justice and Development Party (AKP) invited Hamas to Turkey, and since then Ankara has positioned itself as a rare regional power capable of exerting influence on Hamas.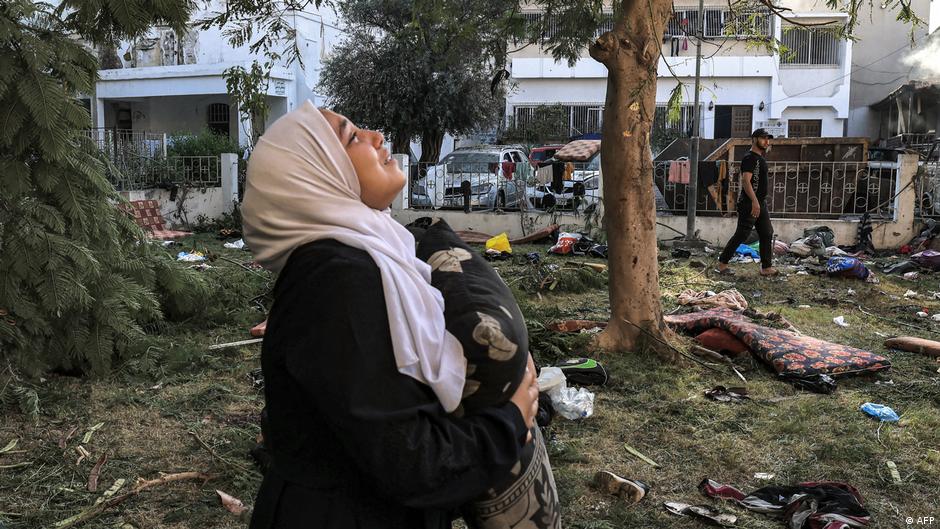 In the current conflict, Erdogan has sought to strengthen his image as a global leader, reprising the international role he has managed to adopt over Russia's war in Ukraine and the grain deal.
However, this latest conflict erupted while Turkey – driven by the need for direct foreign investment in view of its struggling economy – was attempting to re-calibrate its foreign policy and repair ties with Israel and Western powers, as well as the United Arab Emirates, Saudi Arabia and Egypt.
"It seems that the moderate and constructive atmosphere or image that the government in Turkey has been trying to highlight in its foreign policy for the last couple of years is reflected in this crisis as well", wrote retired ambassador Omer Onhon in his column on the independent Turkish news outlet T24 one day after the Hamas attacks.
Onhon added that this moderate picture might change in the face of an increased civilian death toll in Gaza and depending on Israel's reaction to the presence of some Hamas leaders in Turkey. 
Reports later suggested that Ankara politely asked Hamas's political leader Ismail Haniyeh and his entourage to leave Turkey, after footage circulated on social media of his celebratory prayer while watching the attack of 7 October on television – allegedly in Istanbul.
Israelis struggle to process Hamas attacks
Music festival turns deadly: one of Hamas' deadliest attacks was on the Supernova music festival, held at a kibbutz near Gaza. It was an easy target as Hamas fighters stormed across the unofficial border into Israeli territory on Saturday. Festival-goers fled in panic. At least 260 did not survive, while others were taken hostage. Israeli soldiers, seen here, later secured the scene

Clearing out Hamas: Israeli forces regularly go into Palestinian areas to conduct operations that kill combatants and civilians alike. Far less often do they have to do the same on their own ground. Authorities were seemingly unprepared to protect the Israeli towns and kibbutzim close to Gaza targeted by Hamas fighters. Troops engaged in long standoffs to clear them out, seen above, but the damage was done

Israeli burials: violence between Israel and Hamas usually results in a lopsided death toll on the Palestinian side. In catching Israel unaware, the Hamas attacks initially flipped that count. Almost as many Israelis, mostly civilians, were killed over the weekend as during the entire second intifada in the early 2000s. Jewish religious law requires quick burials, so funerals took place shortly after the attacks

First-aid response: some Orthodox Israeli Jews can be exempt from otherwise compulsory military service. They and others are finding non-military ways to contribute, such as blood donation. Within hours of Hamas' incursion, hospitals were confronted with thousands of wounded patients. In Gaza, due to the Israeli blockade, medical infrastructure is in no shape to cope with those injured in Israeli counterattacks

Far-reaching impact: a new war between Israel and Hamas has consequences for the whole world, and not just in terms of geopolitics. With restrictions on Palestinians entering Israel to work, many temporary and lower-wage jobs are filled by people from much further away. Thousands of Thai people live in Israel, and some have been killed or kidnapped by Hamas fighters. The fates of others remain unknown

Israel's security priorities: while they cope with trauma, many Israelis are asking how Hamas pulled off the attack seemingly without warning. Some media reports and Israeli human rights groups suggest that the government has diverted resources from protecting citizens on Israeli territory to serving settler interests in contested occupied Palestinian territory in the West Bank

Preparing for war: for Israel's soldiers, there is little time to rest and grieve. Hundreds of thousands of them may be ordered to enter Gaza, which Israel formally left in 2005 while retaining control of its air, sea and land access. Ahead of a possible incursion, Israeli Prime Minister Benjamin Netanyahu said Gazans should get out while they can – a near impossible task with borders closed by Israel and Egypt
Stance shifts
But as the situation on the ground escalated and Palestinian civilians continued to die in their hundreds, Ankara's discourse shifted, particularly following the blast at the Al Ahli Hospital on 17 October. 
Meanwhile, Turkey's offer of mediation was not received with enthusiasm. U.S. Secretary of State Antony Blinken's visit to regional powers – Israel, Egypt, Jordan, Saudi Arabia, Bahrain, the UAE and Qatar – omitted Turkey. While all this has been happening on the geopolitical front, there has been a marked increase in anti-Israeli sentiment among the Turkish public. 
Addressing his Justice and Development Party (AKP) lawmakers in a parliamentary group meeting on 25 October, Erdogan not only defended Hamas, but also accused Israel of attacking Gaza with ferocity, acting "not like a state" but an "organisation" – the standard way of referring to terror groups in Turkish. 
He also criticised Western countries for their strong backing of Israel and double standards for not condemning Israel's killing of civilians in Gaza the same way they have Russia's killing of civilians in Ukraine. "It is hypocrisy that those who set the world on fire just yesterday because of losses in the war in Ukraine are blind to this explicit massacre in Gaza," he said.
Harsh speech follows greenlighting of Sweden's NATO bid
A day earlier, Erdogan had signed Sweden's NATO accession protocol and forwarded it to the Turkish Parliament, a clear sign of his willingness to maintain good terms with the West and NATO. 
According to international relations professor Ahmet Kasim Han, his subsequent speech was aimed more at the domestic crowd than an international audience. "He knows he can get away with it in the international arena, besides it is more important for him to consolidate his constituency," Kasim Han told Qantara.de.
Journalist Fehim Tastekin similarly commented that Erdogan first signed the Sweden protocol and then basically told the West and Israel: "Sorry, I'm going to have to make some noise". 
"The West is used to Erdogan's noise strategy, and so is Israel. Israel looks not at words, but at actions that have the potential to change the equation in Palestine. Turkey's relations with Hamas are useful for the U.S. and Israel, since a channel between enemies is needed," Tastekin said, reminding that Turkey has yet to recall its ambassador from Tel-Aviv. 
While Turkey heads towards local elections in March next year and political parties are in pursuit of new electoral alliances, there is a quest to garner public support with policies relating to Gaza. The majority of Turks condemn Israel's campaign in Gaza. 
Against this backdrop, government-ally Nationalist Movement Party (MHP) leader Devlet Bahceli called for Turkey's military intervention in Gaza in a statement on social media on 21 October. His call was supported by some opposition parties.
However, despite widespread anti-Israel sentiment among the Turkish public and overwhelming sympathy with the Palestinians, historically, people have differing views on the current conflict. 
Majority wants distance from Hamas
A recent survey by reputable polling company Metropoll revealed that only 11.3 percent of the nation wants the Turkish government to support Hamas, while 34.5 percent would prefer Turkey to remain neutral, and 26.4 percent would like Turkey to mediate. Some 18.1 percent think that Turkey should continue to support the Palestinian cause, while maintaining distance from Hamas. 
A pro-Palestine rally held by President Erdogan a day before 29 October, the centennial of the Turkish Republic, also met with some negative reactions from the general public. With the government facing ongoing criticism for wanting to change long-standing traditions on how Republic Day is marked and celebrated, there were accusations that the rally would overshadow this important event in the national calendar.
Tough choices on the horizon
According to Nuray Babacan, journalist and experienced observer of Turkish domestic politics, Erdogan's statements stirred panic even among some of the AKP's deputies. 
She pointed to the lira's drop in value against the U.S. dollar and volatility on the stock market following Erdogan's statement. Babacan also said Erdogan's comments might harm Turkey's shuttle diplomacy and its search for foreign investment. 
According to her, AKP deputies are also concerned about potentially declining public support due to the government's Hamas stance. 
Erdogan's Hamas remarks may raise eyebrows in Turkey and the West, but if Israel launches a large-scale land operation against Gaza, the situation might change yet again for Turkey. Erdogan's government is likely to end up feeling trapped between calls for intervention from his supporters and pressure from the West.
© Qantara.de 2023