The "Peace Train" is rolling again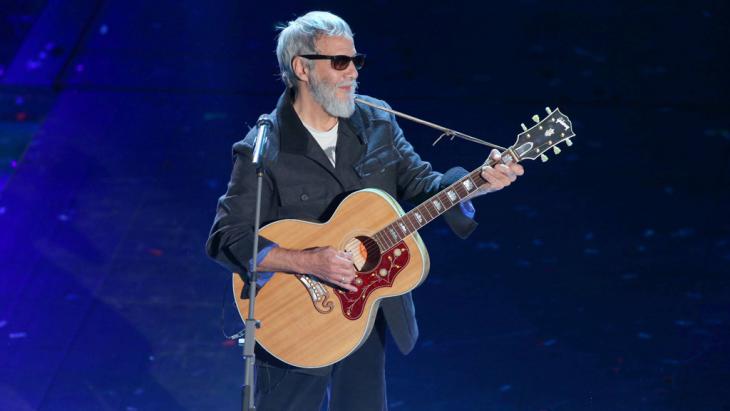 Malibu, California, 1976: a man is swimming in the sea. All of a sudden, a storm approaches. The waves get higher and higher. Captive to the current, the man starts to drift. In distress, he begins to pray: if he survives, he promises, he will devote the rest of his life to God. Shortly afterwards, a wave carries him safely to shore.
The man converts to Islam and changes his name to Yusuf Islam. Before that, he was known as Cat Stevens, the 70s pop musician who sold over 50 million albums. He then sells all his instruments and puts an end to his musical career.
Flash back to 1967. London-born Steven Demetre Georgiou is 19 years old. The son of a Greek-Cypriot father and a Swedish mother releases his first album, "Matthew & Son", under the pseudonym Cat Stevens. It enters the UK charts at No. 7. His second album "New Masters" is a commercial flop. When he falls ill with tuberculosis, it seems as if his budding career is over before it really began.
From global pop phenomenon to controversial convert
Cat Stevens is bedridden and depressed. Nevertheless, he manages to write more than 40 songs. Simply arranged and featuring nothing more than his voice and acoustic guitar, there is little room for musical experimentation. This new, intimate sound becomes the recipe for his success and the basis for his subsequent albums. Songs like "Wild World", "Morning has Broken" and "Father and Son" turn Stevens into a worldwide pop icon.
It all ends ten years later, when Cat emerges from the sea as Yusuf. Converting to Islam in 1978, he finishes recording his eleventh studio album, ditches his stage name and withdraws completely from the music business and public life. He sets up a Koran school in London and gets involved in UN social projects.
In the late 1980s, Yusuf Islam is back in the headlines. Around about this time, Salman Rushdie, author of the novel "The Satanic Verses", was accused of blasphemy against Islam. The Iranian religious leader Ayatollah Khomeini issued a fatwa against him in 1989, calling for his execution.
During an interview on British television, Yusuf Islam indirectly expressed support for the ayatollah's call, saying that if Rushdie were to show up at his door, he wouldn't give him shelter, but hand him over directly to Khomeini. He later tried to qualify his remarks, saying that the journalist had trapped him and that it had all been a big misunderstanding.
In 1996, he told the "Berliner Zeitung" newspaper that as a Muslim, he positions himself "between the radicals and the moderates". Israel, however, definitely considered him a radical, prohibiting him from entering the country in 2000 because of his donations to the Palestinian organisation Hamas.
The peace train
It came as a huge surprise, therefore, when over 20 years after setting aside his guitar, Yusuf Islam made a musical comeback. The relaunch of his career was just as radical and emphatic as his retirement in 1979. Here too, he was motivated by a specific event: September 11, 2001. He said that after 9/11, he decided that the time had come to sing for freedom again and for the vast majority of Muslims who have absolutely no connection to extremism.
At a concert for the Nelson Mandela Foundation in 2003, Yusuf Islam returned to the stage, performing his song "Peace Train". The decision to start playing his old material again was not taken lightly. The singer explained that he had needed time to be sure that he was doing the right thing, but that he now believed that he had come up with a very simple answer: whatever brings about goodness is good and everything that has bad consequences is wrong.
Since his comeback, he has released three albums. His latest, "Tell 'em I'm Gone", came out in October. Although the name "Yusuf" is printed in large letters on the cover, there's also a sticker with "Cat Stevens" next to it. Apart from the name, he hasn't changed much since the 70s. Although his beard is greyer and he wears glasses, his voice and guitar have their old ability to charm. His fans are getting what they want to hear.
Yusuf Islam is everywhere on social media: on Facebook, YouTube and Twitter. On 18 November 2014, he posted a photo online showing him in front of a piece of the Berlin Wall. The photo is accompanied by a quote from his song "Tuesday's Dead": "We must try to shake 'em down ... Try to turn the world around ... one more time."
Hans Joachim Hennig
© Deutsche Welle 2014