Dry winters and scorching springs
This past spring, Morocco witnessed an unprecedented heatwave. While the season is usually characterised by gradual warming, starting from the last week of April and continuing through May, temperatures ranged between 37 and 45 degrees Celsius in the kingdom's central and southern provinces. According to data issued by the General Directorate of Meteorology, the intense heat recorded in some Moroccan cities exceeded the seasonal average by 5 to 13 degrees Celsius. 
The immediate cause of these unusually high temperatures was a south-eastern current that brought hot, dry air from the Sahara to Morocco. The heatwave was also preceded by a notably dry winter, in addition to a significant decline in annual rainfall over the past five years. As a result, Moroccan dams are currently only filled to a third of their capacity, according to official government data released this month.
Closely correlated with climate change
Mostafa Benramel, an environmental and development expert in Morocco, believes that these disturbing conditions – especially the lack of rainfall during the winter and high temperatures in the spring – are primarily caused by climate change.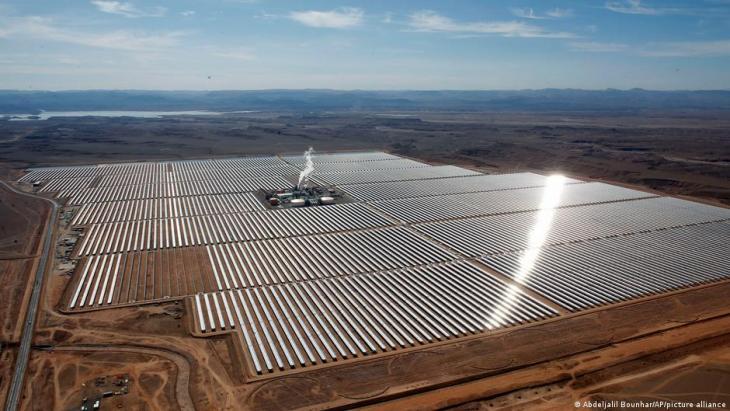 According to Benramel, sporadic precipitation during the winter months has not been sufficient to meet the needs of the country. This exacerbates an already worrisome situation of water scarcity, where the little rainwater Morocco receives is lost to river run-off that drifts into the sea. The rise in temperatures, on the other hand, is linked to the increase in the proportion of human-emitted greenhouse gases in the atmosphere, as well as the disappearance of a large proportion of carbon-absorbing forests and the high rate of urbanisation.
Drought and disappearing natural resources – the direct outcome of extreme weather phenomena in Morocco – has also negatively impacted the agricultural sector, including irrigation and animal husbandry practices, not to mention the wider loss of biodiversity. The variety and intensity of the effects of climate change in Morocco necessitate urgent, concrete measures to confront it. 
Towards climate resiliency
To withstand the effects of climate change, Morocco has made a significant effort to promote the use of renewable energy. The Noor Power Station in Ouarzazate, for example, is one of the largest solar projects in the world, and the government has also encouraged the provision of clean energy from wind and hydraulic sources. These projects aim to reduce greenhouse gas emissions by 42 per cent in Morocco by 2030, while also motivating citizens to use clean modes of transportation. Additionally, the country is working to enhance the infrastructure required to detect and warn against extreme weather, including by improving ground and air monitoring networks and remote sensing tools.
These efforts will enable Morocco to be relatively resilient in the face of climate crises, but there is still a long way to go.  The kingdom also must adopt climate policies that take into account the environmental specificity of each of the country's regions, just as local municipalities must incorporate climate resiliency into their agendas.
Careful management of water resources needed
In the face of increasingly dire water scarcity, Morocco needs to strengthen its management of water resources and develop advanced water-conservation technologies, as well as support sustainable agriculture and agricultural diversification to improve productivity and sustainability. So too must it adapt urban planning, especially in coastal areas, to face the effects of climate change.
To achieve climate resiliency, climate policies in Morocco must be people-cantered. Raising awareness of environmental issues among various segments of society, especially by incorporating them into educational curricula and programmes, is of critical importance. The government must also stimulate clean technology innovation and mobilise civil society associations and non-governmental organisations interested in environmental affairs.
The implementation of these proposals is still somewhat far away: limited financial resources and poor infrastructure have delayed climate adaptation, as have competing economic and development priorities in the kingdom. Nevertheless, Morocco has made notable progress towards climate resiliency – and with the growing frequency of extreme weather events, it has no choice but to do more.
Soukina Nait El-Rayes