Shifting sands, choosing sides
At the beginning of December, best-selling Egyptian novelist Alaa Al Aswany was in London for an appearance at the inaugural Gingko Conference, which aims to bring together the "East and West". The author's presence in London was not as explosive as his October 2013 appearance in Paris, where protestors advanced on the stage and Al Aswany was slipped out the back. But voices were certainly raised, both at the conference and later on BBC Hard Talk with Stephen Sackur.
At issue was whether the novelist's support for democracy, which has always been his signature line ("democracy is the answer"), has changed since 30 June 2013. That's when Al Aswany supported the removal of Egyptian President Mohammed Morsi and the installation of military rule. 
French-Algerian journalist Nabila Ramdani said to Al Aswany during the Q&A session, "You seem to think that military rule is the answer to deal with [conservative Islamic] Wahhabism. It's simply quite shocking to see that you sell democracy as a literary project, as a fiction. And that you're actually making money out of it without actually believing in it."
But if Al Aswany has stepped away from calls for immediate democracy, he isn't alone among Egyptian writers. Many have expressed support for Egypt's current military ruler, Abdul Fattah al-Sisi, despite the lack of movement toward elections and the crackdowns on free assembly and free speech.  
Egyptian playwright Ali Salem, who received a $50,000 British "Civil Courage Prize" in 2008 for his relationship with Israel, called for extralegal killings of government opponents in a May 2014 column in "Al Masry Al Youm". Critically acclaimed Egyptian novelist Gamal al-Ghitani, author of the landmark "Zayni Barakat", lauded state power and wrote that the state was winning against the Muslim Brotherhood thanks to the army.  Last year, the website sisimocracy.tumblr.com was established to act as a "wall of shame for the dictator's intellectuals."
A number of writers have kept up their criticism of the new Egyptian ruler: satirical writer Bilal Fadl left the newspaper "Shorouk" after an article on Sisi was censored. British–Egyptian novelist Ahdaf Soueif continues to stand with protesters, as do others. 
But the alignment of many writers with the new Egyptian regime has sparked heated conversations both inside and outside Egypt.
Literary saints?  
In the West, where Egyptian authors have long been seen as "pure" forces for good, the reaction has sometimes been one of shock. A year before the 2011 uprisings began, Claudia Roth Pierpont wrote in "The New Yorker" that, "There is little danger of encountering anything like official propaganda [in Arab novels], since the Arab novelist stands, almost by definition – as a thinker, as a conduit of intellectual life – in opposition to the retrogressive forces in the modern Arab state."
In the last few years, those writers who haven't stood fully with protestors, in Egypt and much more so in Syria, have often been dismissed. 
 
No writer seems to have sparked more conversations than the widely admired novelist Sonallah Ibrahim, who was at the centre of the discussion "The Authoritarian Turn: On the State of the Egyptian Intelligentsia" in New York City this fall. Even though Ibrahim's support for Sisi has been mild, the focus was on Ibrahim both because he has been seen as a lifetime regime opponent and because he has been arguably the most influential post-WWII Egyptian novelist outside Naguib Mahfouz. 
In the talk, which took place on 9 September, Robyn Creswell, who translated Ibrahim's "That Smell", said that Ibrahim has been seen as "a kind of literary saint."
Genuine fear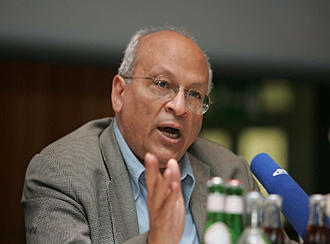 Ibrahim's support for Sisi has thus led some to re-read his novels. At the event, Creswell, historian Khaled Fahmy and independent scholar Mona El Ghobashy tried to explain why authors and other intellectuals, such as Ibrahim, have not criticised Sisi more strongly.
Much of the alignment with Sisi, Creswell argued, was because of "genuine fear". The place where Muslim Brotherhood supporters made their biggest inroads during Morsi's tenure was in the culture ministry, and many writers and artists saw this as a direct threat. 
Fahmy pointed to the breakdown of Syria and Iraq as a much bigger source of fuel for fear, which was in some cases legitimate. But fear, he said, does not allow one to kill Muslim Brotherhood supporters with impunity or to support that killing, "and that is really the charge that I'm levelling at Egyptian intellectuals."
Compared to Al Aswany's talk in London, New York's "Authoritarian Turn" was peaceful, although also relatively one-sided. 
"I'm not sure the question is why intellectuals failed to criticise Sisi," Egyptian novelist Youssef Rakha said over g-chat after the talk. "The question is how society and the culture came to be in a situation where there is no viable alternative to Sisi except for a Sunni Iran."
Rakha, who added that he is against Sisi, said he disagreed with the framing of the New York talk on "authoritarianism". He said that instead of generalised protest against the current president, he is more interested in individual acts of subversion. "I mean, if one tenth of the energy spent on doing the Islamists' work for them since 2011 was spent on atheism and the sexual revolution, perhaps I would see the point."
Meanwhile, all authors describe a world in which it's difficult to discuss these issues across lines of affiliation. Voices are raised quickly, and Facebook discussions descend almost instantly into sharp disagreement.
Fahmy still had hope that some Egyptian writers might reconsider their support of Sisi. "It's important to keep the door open," Fahmy said. "Because Egypt is now deeply, deeply divided."
Marcia Lynx Qualey
© Qantara.de 2014