Morocco and Algeria square off over Western Sahara
On 8 June 2022, Algeria announced the suspension of a two-decade-old treaty of friendship, good neighbourliness and co-operation with Spain. This decision came as a blow to relations between Algiers and Madrid, which had already been deteriorating since Spain backed Morocco's position on the disputed territory of Western Sahara.
Both countries issued official statements to clarify and defend their views, while the EU – concerned about the economic ramifications of the Algerian move – urged Algeria to reverse its "deeply worrying" decision that directly violates the 2005 EU-Algeria partnership agreement.
Algeria's response to the Spanish move was shocking because other Western countries – including stronger and more prominent states – have taken more drastic steps that incurred a considerably milder reaction from Algeria.
The United States, during the Trump administration, declared that it recognised "Moroccan sovereignty over the entire Western Sahara territory", ultimately opening a consulate in Dakhla. The Americans even went further, affirming their support for the Moroccan proposal to grant limited autonomy to Sahrawis living under Moroccan control.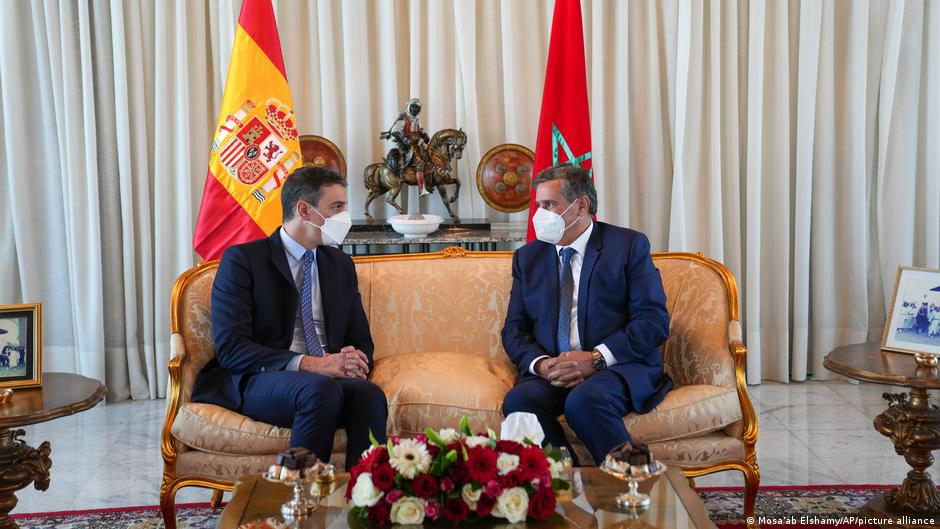 Germany also changed its position on Western Sahara following the election of a new chancellor at the end of 2021. The newly elected German government, attempting to overcome a long period of tension with Morocco, described the Moroccan autonomy plan as an "important contribution" to end the Western Sahara conflict. 
Opposing positions 
The Western Sahara conflict has always been at the heart of Moroccan-Algerian relations and has always affected their interactions with their European and African neighbours. Concerned international actors, such as the UN Human Rights Council, have regularly tried to facilitate a de-escalation of tensions between the two Maghreb countries.
When Spain – a prominent partner for both countries – failed to strike a balanced position that could help reduce tensions, Algeria was quick to escalate, explicitly denouncing the Spanish shift in policy and declaring that the Spanish position contradicted international legal decisions, not to mention Spain's traditional approach to the issue.
Morocco, meanwhile, has been acting with increasing assertiveness in regard to its sovereignty over the disputed territory. In fact, King Mohammad VI announced in a recent speech that Moroccan relations with other countries would be based mainly on respect for Moroccan sovereignty over Western Sahara. 
Cultivating new allies?
Amidst the Algerian diplomatic spat with Spain over the status of Western Sahara, the Algerian Foreign Office has been hard at work strengthening economic and political relations with Italy, Spain's long-standing partner, and with France, Morocco's greatest ally. France, with whom Algeria shares a long and a stormy history, has always been openly supportive of Morocco's right to defend its "territorial integrity".
Algerian overtures to Italy culminated in an official visit by Algerian President Abdelmadjid Tebboune on 25 May 2022. Tebboune held bilateral talks with his Italian counterpart and signed an important energy agreement with Italy, paving the way for Algeria to become Italy's largest gas supplier.
Before tensions rose, Algeria was Spain's largest gas supplier, with Madrid receiving its share of Algerian gas through the trans-Moroccan pipeline. However, as Algerian-Moroccan relations deteriorated and Algeria feared Spain would sell Algerian gas to Morocco, Algiers stipulated that the gas supplied to Spain should not be re-exported to any other country, namely Morocco. Furthermore, as a punitive measure, the Algerian government recently decided that the gas originally intended for Spain will now be diverted to Italy.
The strain placed on Spanish-Algerian relations due to the change in the former's position on Western Sahara raises many questions about the future of Moroccan and Algerian relations with EU member states. How will Algeria react if other EU states decide to adopt the Spanish position, thus supporting the autonomy proposal?
Will the divergent Moroccan and Algerian positions ever become aligned in a way that will bring the diplomatic impasse between the two countries to an end? Will their conflicting perspectives on Western Sahara only be resolved with the help of international efforts? Only time will tell, but recent developments indicate further tensions ahead. 
Mohamed Al-Fawiris
© sada | Carnegie Endowment for International Peace 2022
Mohamed Al-Fawiris is a Moroccan journalist, researcher and PhD candidate at the Faculty of Arts and Humanities Sais (Fez). He is interested in studying the impact of the digital age on media practices.