"We are just soft targets: we are very cheap"
How is the situation in Gaza at the moment?
Raji Sourani: We don't sleep at night or during the day. It's almost non-stop bombing, all over the place. There are no shelters; there is no safe place anywhere in Gaza, there is bombing everywhere. Right now, we are in the middle of a war: anything will hit the people, anything will hit a building. The airplanes and the drones never leave the sky.
Entire families have been erased, and the problem is that most of the killings are of civilians. Our findings from our field workers show that more than 77% of the victims that are injured are civilians. Civilians are in the eye of the storm. You are talking about one of the most high-tech air forces on earth. And you're talking about F16s and drones and an army with a chain of command. It's not random rockets; they send these bombs to kill. It's not for fun.
What is the general feeling there?
Sourani: People are furious here. In 2008-2009, with all the horrors that took place, when they used phosphorous bombs all over Gaza, they destroyed the city. And then in 2012 we had another war, and now we are having the third consecutive war in about five years. It's too much for any population. People are really sick, tired, exhausted, and nobody really wants to be a submissive victim. They feel there is nothing more to lose.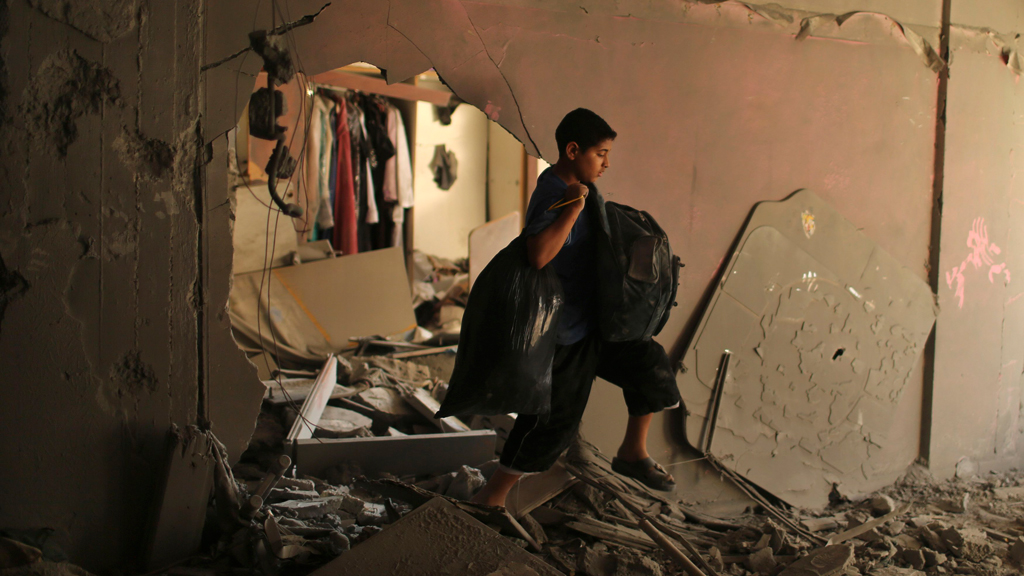 If you are in this situation, you see the world is just watching and you are just a part of the news. The most important feeling is when you feel your soul and the souls of the people you love are so cheap, and your suffering and your blood so cheap, and there is only one blood and soul that is holy, which is Israeli Jews, you just lose your mind. According to the news, they have had eight injured during this war – that's all that they suffered on the Israeli side, and here you have hell.
The most common sentence I heard when people began to talk about ceasefire: everybody says it's better for all of us to die and not go back to the situation we used to have before this war. We don't want that again. We have no dignity, no pride; we are just soft targets, and we are very cheap. Either this situation really improves or it is better to just die. I am talking about intellectuals, academics, ordinary people: everybody is saying that.
How did the latest incident, the killing of the teenagers, spark the conflict?
Sourani: I don't think that the killing of the three Israeli teenagers legitimises the killing of eleven people in the West Bank by Israel. It was an individual incident: no Palestinian group, political group, or Hamas said, "We are responsible for the killing of the teenagers." But the Israeli Army killed people in the West Bank: amongst them were four teenagers. In Gaza, in the West Bank, they arrested almost 1,300 people, among them 28 Palestinian members of parliament. Not only this, they cracked down on institutions and universities. After they finished with the West Bank, they came to Gaza and killed as many 192 people, 70 percent of them women and children, and they injured hundreds of people who are now physically challenged as they have lost their hands or feet or have become blind.
Israel launched 1,800 air raids in one of the most densely populated areas of Gaza.  It is unbelievable that we are having this number of killings and injuries. In the whole of Gaza there is no safe haven. It's a shame that Israel and the international community allows this to happen.  These are war crimes, just as simple as that.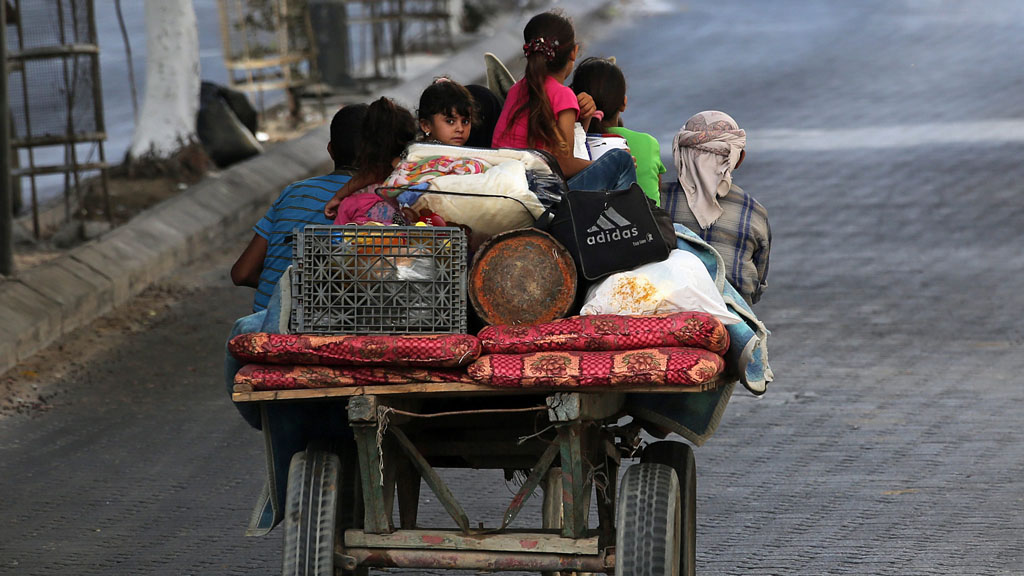 Have the people of Gaza lost hope completely?
Sourani: They are traumatised. People are pushed very hard, with their backs to the wall. You are talking about well-educated people, who watch TV and know about the world. They forced 20,000 people to flee from their homes, and they dropped flyers. People just left with the clothes on their back and whatever they could carry in their hands, and now they are taking shelter in schools and have become refugees in their own homeland. Pamphlets are dropped around midnight which say that you have to move immediately. So for those who have fled it's a problem, because they left everything behind them: they left their houses, their lands, their farms. And at the same time, for those who decided to stay behind, it's very dangerous.
Do you see any way of out of this conflict in the future?
Sourani: Yes, simple – end the occupation. This is all that is needed. They speak about it as just, fair, or a right occupation. How can you talk about justice under occupation? Why did they sign accords and after twenty years of signing the accord we are having wars, we have killings, we have the destruction, the misery.  We are not normal; we have no dignity. They are just killing us, intimidating us and besieging us. We cannot move within Gaza to see our friends and relatives; it is a very dangerous situation. All of Gaza is under curfew, nothing is moving in it.
What do you think needs to be done immediately?
Sourani: The civilians are in the eye of the storm: they are the targets. Imminently, you would think of protecting civilians, meaning: activating the legal commitment of the international community of the Geneva Convention, Article 1. This talks about ensuring respect for civilians. We are supposedly 'the protected civilians' of this occupation, and there is no protection. And so basically I would suggest that the Swiss government call upon high contracting parties to have a conference to provide protection for Palestinian people. That's what we need, badly.
Secondly, Gaza was already in a very disastrous situation before this. For eight years we have been under criminal, inhuman, illegal siege, which is a form of collective punishment for two million people. There is no movement for goods or individuals.  This has suffocated Gaza entirely, and made Gaza a really miserable place and a very big prison. We have 65% unemployment; 90% of our people are below the poverty line, while 85% are receiving rations. We have a lack of everything: water; sewage dumped in the street, which cannot be treated.
This is the decline of the Gaza Strip, and not because we are lazy or crazy or bad people. We have one of the highest percentages of university graduates on earth. We have one of the most skilled working classes in the Middle East. We have a good business community and enough money. We don't expect anything but freedom of movement – the end of the siege and freedom of movement of goods and individuals to and from Gaza. The Human Rights Council should send an investigation mission, to the occupied territories, to Gaza, in order to investigate these war crimes perpetrated by Israel. We need a committee which has the ability to hold any suspected war criminals accountable. We simply need the rule of law in this part of the world.
And all we want is an end to this criminal, belligerent occupation, but nobody is talking about that. I don't want self-determination, I don't want independence, I don't want a Palestinian state – I want to be normal. I just don't want this occupation. We want the rule of law: is that too much to ask? I am 60 years old, and I don't recall one day that me or my family or the people we know lived a normal day in our lives. I celebrated the twentieth birthday of my twins on 12 July, when the bombing was hell. What is left to remember but that?
There are some Israeli friends who call, and they just cry and say: we feel paralysed, we can do nothing, all we can do is pray for you.
What keeps you going at such a difficult time?
Sourani: I have no right to give up. We cannot be submissive victims; we will keep fighting for our freedom, and this is our right and obligation. My team wakes up every morning and finds a way to come to work. We have to continue documenting what is going on here, and we have to tell the story of what is going on here, and we are here to protect civilians in this time of war.
Raji Sourani was honoured with the Right Livelihood Award in 2013 for his unwavering dedication to the cause of human rights.
The interview was conducted by Roma Rajpal Weiss.
© Qantara.de 2014
Editor: Charlotte Collins/Qantara.de