Orient and Occident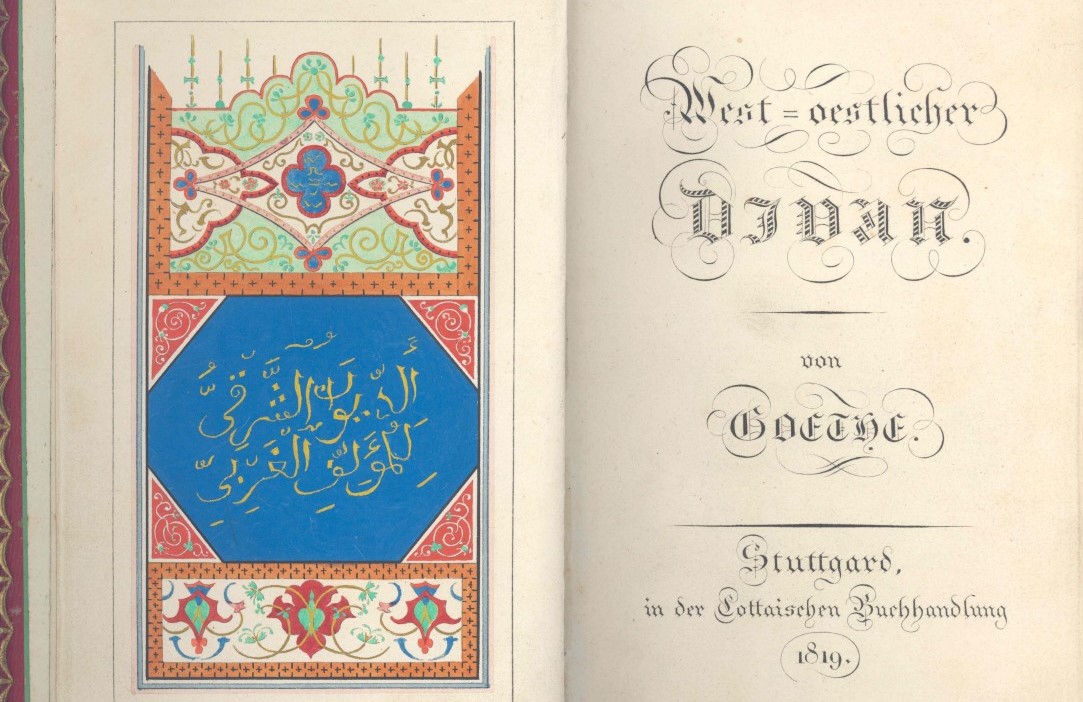 To say that Islam has been a part of German literature since the 17th century is an understatement. What is seldom appreciated is that among a wealth of individual examples, there are continuities that can't simply be dismissed as "Orientalist".
In this long history, Goethe's "West-Eastern Divan" is by no means an exotic exception. Rather, it is the great relay station between enlightened curiosity and a chain of literary works stretching right into the modern era, written in conversation with the Islamic world – with orthodoxies and heresies, Sunni, Shia, and Sufi traditions.
When Goethe started work on the "Divan" in 1815, he already had recourse to a whole library of German expertise on Islam. He certainly didn't rely solely on Hammer-Purgstall's renderings of Hafez, which were to lead him into the fiery nucleus of Persian mysticism.
On his desk there was also a German and a Latin translation of the Koran; many volumes of research in the emergent discipline of religious studies, including the journalism that popularised it; a French biography of the Prophet Muhammad, and, true to Voltaire's motto of "Crush infamy!", the latter's hate-filled Mahomet play, which Goethe himself translated, reluctantly and on commission.
A trunk full of literary marvels
Among the voices that speak in his work, however, are some that are easily overlooked. The voice of Lessing for example, who like many of his contemporaries thought he recognised a potentially enlightened form of religion in the strict monotheism and morality of Islam.
Or the voice of the graceful Wieland, who took traditional fairy-tales from the East and in his poetry, such as "Oberon", sketched out his own dream image of a reconciliation between the Christian West and Islamic East. Or the voices of the travellers who, since the Baroque period, had brought back not only silks and spices from Persia and Arabia, but poetry, too.
Returning from Persia in 1639, for instance, the diplomatic delegation from Schleswig may not have brought back the hoped-for trade deals, but they did bring a work of literary genius like Sheikh Saadi's "Gulistan". The polymath Adam Olearius didn't just translate this poem into elegant Baroque German; he decorated it himself so ingeniously, playing with Islamic calligraphy and iconography, that in his "Divan" project, Goethe was able to draw on both the verses and the design of a German book with an Islamic look and feel.
What began with Olearius and the poet Paul Fleming who travelled with him, and continued in the adventurous travel writing of Engelbert Kaempfer and Carsten Niebuhr, established two influential tendencies in German literature's reception of Islam. Firstly, that scholarly exploration and poetic adaptation repeatedly went hand-in-hand. Secondly, as a result of this, the respectful, curious conversation stubbornly outweighed any inclination towards the formation of orientalist clichés.
A travelling merchant, importing poems
When Goethe contemplates his own poetry and its role-playing in the prose section of his "Divan" – which remains underrated to this day – he initially portrays himself in the same mould as these role models: as a travelling merchant, who imports his poems and "offers [them] obligingly". He had already found a model for his earlier self-image of the inspired genius in the same spheres.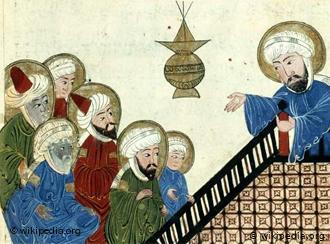 Goethe's youthful attempt at a Mahomet play as a riposte to Voltaire's (the story of which is recounted in his autobiography, "Dichtung und Wahrheit") apparently followed the eponymous hero's path from sanctifying revelation into political violence, before the dying man regrets his errors and returns to pure piety, role model and a warning in one.
From Goethe's poems onwards, the literary paths branch outwards. As Daumer and Platen rediscovered the mysticism of Hafez, following in Goethe's footsteps, Friedrich Rueckert's flawlessly precise translation of the Koran finally gave German readers an idea of the original's beauty.
And for those who felt this was all too highbrow, there were Karl May's Middle-Eastern novels, beginning with "In the Desert": enlightened compendia of contemporary knowledge about the world that Muslims inhabited, their fundamental beliefs and practices, their conflicts with Christians, Jews and Yazidis (and the mechanisms of mutual intolerance), strikingly well-informed, sympathetic and, despite all gestures of superiority, willing to understand.
Zenith of literary Islam adaptations
But wondrous paths led onwards through high literature, too. In Rilke's 1907 sonnet "Mohammed's Call", for instance, he drafted that primal scene of poetic revelation, which five years later would become an often-misunderstood model for his own "Duino Elegies". Inspiration needed to come via the artist, Rilke noted while working on the poem, "at least as well as it came via Muhammad".
 During the First World War, the rhapsodic expressionist Klabund and the socialist activist Friedrich Wolf both wrote about Muhammad, independently of each other, as the proclaimer of a reconciliation among humanity under the banner of divine peace.
At the end of Klabund's Muhammad novel, Muhammad, Moses and Christ fall weeping into each other's arms. This gorgeously sentimental scene is a climax, not an endpoint for literary interpretations of Islam. Goethe, at least, might have liked it. "If Islam means devoted to God," he wrote in the "Divan", then "we all live and die in Islam."
Heinrich Detering
© Suddeutsche Zeitung 2019
Translated from the German by Ruth Martin