Tackling the tornado of history
At first glance, this novel appears to be a typical Middle Eastern fairytale. It's the story of a prisoner who can fly and who, together with his companions, fools his tormenters and rises brilliantly to command great wealth and respect – only to ultimately lose it again. Yet despite the somewhat fantastical and improbable beginning to the tale of Jamshid: the prisoner who could fly, the details of his odyssey are deeply real and contemporary.
Once the wind enables him to escape the prison where he was being tortured and land on the roof of a garage, Jamshid deploys his new skills in different ways. His two nephews serve as the ropes that keep him steady. Salar, the narrator, accompanies his uncle on his travels for many years. One day he's reporting from the front line of the Iran-Iraq war in the 1980s, the next he's using his talents to woo the woman he's in love with. As a Kurd, he spends a time supporting the PKK in its struggles against the Turks and, reaching a new phase of his life, he comes to believe that rising into the air can even bring him closer to God.
Fairytale or contemporary odyssey?
In an interview about the novel, Bachtyar Ali emphasises that, for him, it's not first and foremost about his hero's adventures, it is in fact much more about demonstrating, metaphorically, the consequences of the rapid change that Iraq and the Middle East in particular have undergone in recent decades, and dealing with existential questions. The wind that Jamshid uses to fly is not a natural phenomenon, it is, rather, symbolic of the 'tornado of history'.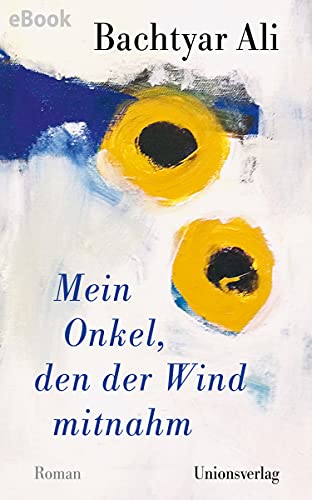 Jamshid's identity is unstable: he often forgets who he is, he is afraid of flying and he fights fiercely to choose the direction his life will take. Time and again, Jamshid falls to the ground and hits his head when the wind drops, causing him to lose his memory. It is this memory loss that allows him to take on a different identity every time and rise to new challenges once he has come round.
He is a tireless driver and manipulator of his environment, showing a wealth of courage and fizzing with ideas. It is surprising to read that he does not shy away from criminal dealings (earning money running prostitution rings and working as a trafficker and smuggler), yet even this seems to be in keeping with our hero's malleable, ever-changing character.
His nephew feels inept and weak in his uncle's shadow. He is Jamshid's mirror image to some extent, retaining his middle-class demeanour and afraid to face what life demands of him. In an interview, Ali draws parallels with Don Quixote and Sancho Panza, but he stresses that, unlike Don Quixote, Jamshid has "two feet in the real world". Salar admires his uncle, but it's not easy for him to love him; he often dismisses him coldly, sending him away and accusing him of doing nothing. But Ali ultimately finds a solution for his narrator: Salar finds his purpose by writing his flying uncle's life story.
Le mot juste
Reading the book, you get the sense you are participating in a life packed with adventure; events follow in rapid succession, seemingly with no pauses. The years fly past, creating the impression of a never-ending journey. In fact, the novel is a mere 150 pages long. Bachtyar Ali is clever in his choice of locations for events and makes reference to real people and real episodes from history, restricting himself each time to the very heart of the matter: he is a master of le mot juste.
Bachtyar Ali leads us into a fairytale world, one which is nevertheless trapped within our own. With stylistic sophistication and in careful, exacting language, he sends Jamshid flying through time and space in search of his destiny. Translated from Kurdish into German by Ute Cantera-Lang and Rawezh Salim, the novel succeeds in maintaining a sober tone amidst its unlikely happenings.
Since contemporary German literature offers almost nothing of this kind, that is, works that blend fairytale and realism, readers owe a debt of thanks to publishers Unionsverlag for filling the gap with Ali's wonderful novels.
© Qantara.de 2022
Translated from the German by Ayca Turkoglu