Death beckons with every step
he worst of the violence is hopefully behind Yemen. The ceasefire negotiated in the spring continues to be broken sporadically, but overall violence has decreased significantly, even if the conflict remains unresolved. A ceasefire between the Houthi rebels and the international military coalition represented by Saudi Arabia came into effect in April, and has since been extended twice, most recently in August. The agreement provides at least a small respite for millions of suffering people – Yemenis are either already being affected by or live in fear of a major famine.
Nevertheless, the lives and physical integrity of many Yemenis continue to be at risk. Large swathes of Yemen literally became minefields during the war. In many regions, Yemenis have to fear stepping on one of the countless landmines scattered throughout the country. Many people have already been killed by mines or have had to have their limbs amputated as a result of an explosion. Since few mines have been cleared so far, the danger of stepping on one of these deadly weapons without warning will remain for years to come.
Scarred for life
Having had to leave his home in Hodeidah governorate in the west of Yemen at the beginning of 2018, Muhammad Zuhair returned there just a few months ago. Security conditions in the region had improved and civilian life seemed possible again.
On the way there, however, just before reaching his home village, the 45-year-old family man drove over a mine hidden on the approach road. With severe injuries to his feet, he was taken to a hospital ward. When he woke up after the operation, he found that he only had one leg. The doctors had removed the other one, said Zuhair in interview.
Dalilah suffered a similar fate. The 33-year-old lives in the large city of Taiz in the southwest of the country. She has lost both legs. Now she is trying to walk with the help of the prostheses she recently received. It is a good five years since she stepped on a mine – exactly one day before her wedding. Along with her, three other women from her family were mutilated.
The accident not only robbed her of her legs, it also caused her financial hardship. Before the wedding, her family had borrowed money to give to the groom's family as her dowry. After her accident, the groom decided he did not want to marry her, but he still kept the money, leaving Dalilah's family with debts that they had to painstakingly pay back.
"I can hardly bear having to move on prostheses without legs," says Dalilah. She is nevertheless grateful to the organisation Doctors without Borders for the walking aids she received through a health centre – even though they are not in the best condition and have to be repaired again and again. Despite her disability, she works as a street vendor – which at least brings her some money.
UN envoy worried
Large parts of Yemen have literally been transformed into minefields in recent years, especially where enemy forces have been in direct confrontation. These areas are particularly dangerous for civilians once the fighting stops.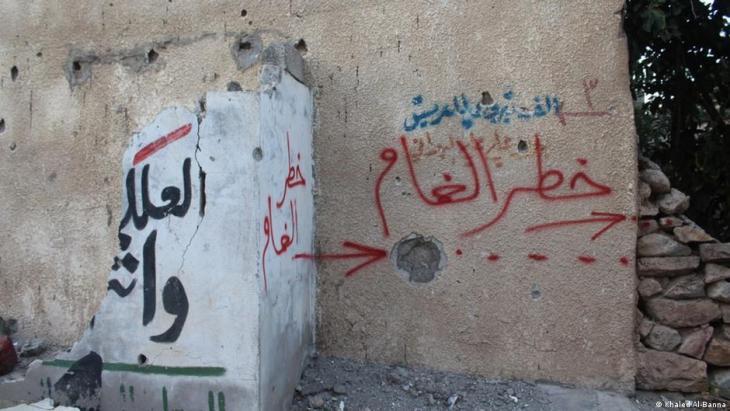 The UN Special Envoy for Yemen, Hans Grundberg, told the UN Security Council in July that two-thirds fewer casualties had been recorded since the fighting ended. Instead, however, numerous personal injuries were now due to landmines and unexploded ordnance, the diplomat said.
So far, the Yemeni authorities have not published statistics on the number of people injured or killed by landmines. However, estimates put the number of victims at a high level.
For example, Faris Al-Hamiri, head of the Yemeni Observation and Documentation Centre for Mines and Unexploded Ordnance, revealed that his organisation had registered a total of 426 fatalities from mid-2019 to early August 2022, including more than 100 children and 22 women. More than 560 injured were recorded, again featuring a high proportion of children (216) and women (48). Many of the injured suffer permanent disabilities.
The danger from mines has worsened after the heavy rains and floods of recent weeks. The waters not only destroyed homes, especially those of poor Yemenis, but they also washed mines into places that had not yet been contaminated. It will take a huge effort to clear them, warns Amin al-Aqili, director of the Yemeni Mine Action Programme. He fears the work will take decades.
Safia Mahdi
© Deutsche Welle 2022