Artists, but not individuals in the Western sense
The morning magazine programme on Saudi Arabia's state television is currently presented by a man and a woman in their mid-thirties, both in traditional dress – although the female presenter's hijab only partly covers her hair and neck. Just a few years ago, this scenario would have been unthinkable in the country that is the birthplace of Islam. The same goes for the first item on today's show – a report on an art exhibition in Jeddah.
The exhibition is titled "Tabayun", which is Arabic for "contrast", and it is showing 40 paintings by 36 young artists. The works, with their huge variety of subjects and styles, mostly of Western provenance, include still life paintings, landscapes, portraits, as well as modern Arabic calligraphy. They look a little amateurish, but the exhibition is about promoting young talent.
'Visual artists of the new generation'
It is organised by the local branch – one of 16 in total – of the nationwide Union for Culture and Art, and the non-profit Qubays Art Foundation from Mecca, which is also active beyond the region. Co-financing was supplied by the "Hobby" funding project, which itself is part of the "Saudi Vision 2030" national development programme. Qubays Art Foundation describes itself as an umbrella organisation for male and female artists, intended to enable them to share experiences through art exhibitions and conferences. It has an online shop where you can buy art equipment, but also paintings by its members.
Art exhibitions are now up and running all over the country. Evidently, the government is determined that such initiatives will make people forget the strictly religious Saudi Wahhabists' former hostility to art. The TV presenter praises the people whose work is included in the exhibition, calling them "visual artists of the new ambitious and creative generation, which has already produced many contemporary works of art".
The reporter on location interviews Alawiya al-Abd Darus. An artist in her early 20s, her hair, her nose and mouth are covered. A pattern of silver flowers sparkles on the sleeves of her black abaya. Yet her painting shows a woman in profile with loose hair, surrounded by white doves in flight and wispy, pale blue clouds. For this aspiring artist the dove, as she explains, is also a symbol of inner peace. At the end of the interview, she thanks her mother, who is present, for her support, "from the bottom of my heart".
It's an explicit show of respect for a – still fully veiled – mother, even amid this display of modernity. And of course, tribute is also paid to the country's ruler King Salman bin Abdulaziz Al Saud at the opening of the exhibition, with a large-format poster of his portrait on show. He and Crown Prince Mohammed bin Salman aim for the Saudi Vision 2030 programme, which is worth billions, to rapidly modernise the Kingdom, and culture is playing its part in that plan.
At the end of 2018, Saudi Arabia set up its very first ministry of culture, which is pouring funding into artistic activities, expressly including art by women, in eleven areas from literature, theatre and performing arts to film, music and visual arts. A market for each of these also has to be developed as quickly as possible. And so, from practically nothing, almost 500 cinemas have been built in the space of just a few years, which are visited – like the art exhibitions and concerts – by a mixed-sex audience.
Apolitical creatives?
Although much has been made of opening up to Western culture, subjects from local and national traditions, from calligraphy to folklore, play an equally important role in contemporary Saudi art. Purely religious subjects, however, don't seem particularly popular. And all those creatives receiving funding are required to remain apolitical – not even the slightest criticism of the Saudi royal family will be tolerated.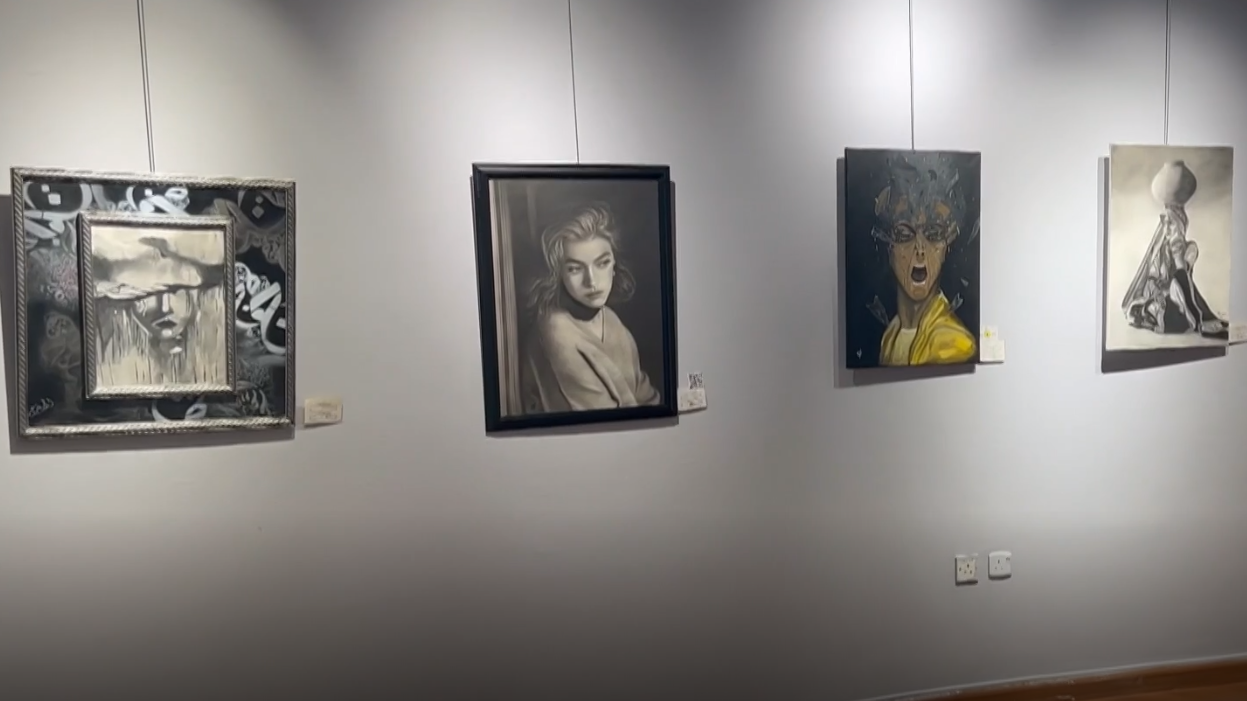 The prominent 56-year-old Saudi poet, playwright and non-fiction author Saleh al-Shadi, who officially opened the exhibition, therefore sounds affirmative as he summarises for the local news portal Jeddah Today: "The current exhibition carries forward previous exhibition projects by selected young artists. The creatives are making progress, and their numbers are growing. All the works exhibited here have a philosophical basis, and stem from a highly developed understanding of art." The writer already sees "a truly creative generation" flourishing, with a special mission: "to present a complete picture of Saudi art to the world".
To Western observers, the mix of openness and conservatism revealed in the contemporary Saudi art that the state is keen to promote may seem disconcerting. American expert on the Middle East Sean Foley challenged this viewpoint in his 2019 book Changing Saudi Arabia: Art, Culture, and Society in the Kingdom – the most comprehensive examination of the cultural change in the country to date. Foley argued that the general assumption of Western-influenced art in the Middle East always being the product of opposition to authoritarian and Islamic regimes is misleading in the case of Saudi Arabia.
According to Foley, Saudi artists reject the core idea of Western modernity, that is, as humanity develops, it turns away from tribal thinking towards individualism. "They are artists, but they are not individuals in the Western sense". And it is this that allows them to remain open to various – even contradictory – influences.
Although Foley's research on the ground in Saudi Arabia is almost a decade old, there is little reason to contradict him when looking at today's Saudi art scene. Perhaps that is why his book has recently been published in Arabic translation by the publishing arm of the Riyadh-based Saudi "Adab" (literature) Foundation. The foundation, which is one of the beneficiaries of the state Cultural Development Fund – part of the Saudi Vision 2030 programme – is throwing itself energetically into dialogue with Western culture. Alongside Foley's book, its first publications include lexicons of world literature and philosophy – with the latter bearing an image of Austrian-British-Jewish philosopher Karl Popper on its cover.
© Qantara.de 2023
Translated from the German by Ruth Martin