The autocrats' finest hour
Well before Olaf Scholz embarked on his first visit to the Gulf region, the German government was careful to play down expectations. The German chancellor's tour of Saudi Arabia, the United Arab Emirates and Qatar – in other words, of the new epicentre of global energy policy – was not to become "simply an energy shopping trip", government circles in Berlin were quick to assert.
Yet such justified caution was unable to conceal the fact that the German government is under immense pressure to succeed. Germany's economy urgently needs reliable and cheap alternatives to gas and oil imports from Russia, which have ceased since the Russian invasion of Ukraine. The Gulf states have these resources at their disposal, their young emirs and princes are highly cognisant of their dramatic increase in importance – and as a result they are acting with increasing self-confidence.
New epicentre of world politics
Saudi Crown Prince Mohammad bin Salman, MbS for short, embodies this new awareness like no other statesman in the Middle East at present. The de facto absolute ruler in Riyadh doubtless feels gratified by his rehabilitation following years of international isolation in the wake of the heinous murder of Saudi journalist Jamal Khashoggi, for which he was held responsible by the U.S. and Turkish intelligence services.
Given the new geopolitical realities arising from the Ukraine war, however, the power-conscious and authoritarian MbS is probably not only interested in personal recognition, but also in Saudi Arabia being taken seriously as a leading power under his auspices in a new, pluralistic world order.
Numerous visits by Western politicians to Riyadh prove that Saudi Arabia's crown prince has undoubtedly become a sought-after statesman on the global stage. U.S. President Joe Biden and former British Prime Minister Boris Johnson have both visited the homeland of Islam this year, while French President Emmanuel Macron received MbS at the Elysee Palace in Paris in July.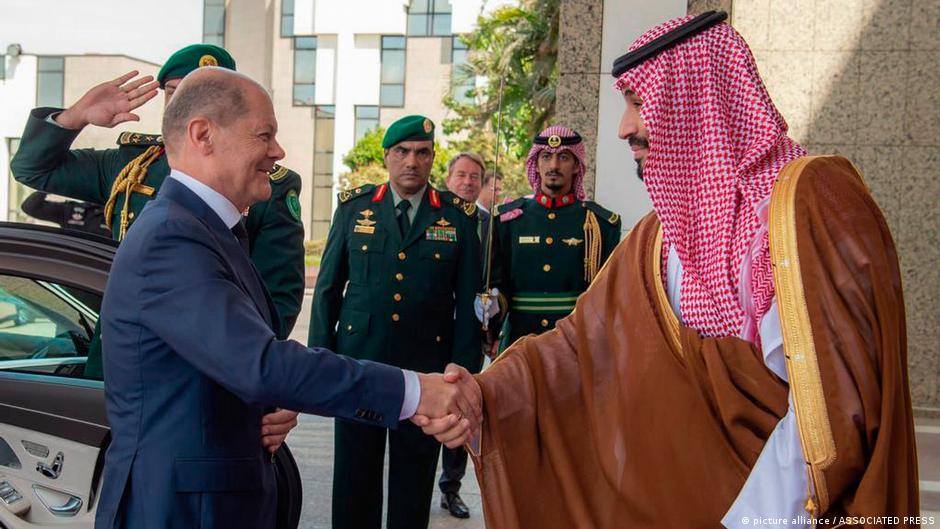 It is therefore important that the handshake between Scholz and Muhammad bin Salman marks the end of the ice age between Germany and Saudi Arabia. At the moment, the Federal Republic is crucially dependent on a solid and functioning working relationship with Riyadh. Alluding to difficult partners in the Gulf is not very convincing, because in truth autocracies are never easy partners.
New Gulf policy needed
Clearly, the German government wants to develop energy partnerships with Riyadh, Abu Dhabi and Doha – the sooner, the better. The aim is straightforward: to further diversify Germany's energy supply and prevent dependence on a single partner. This is a painful, yet necessary lesson from its failed Russia policy of the last 20 years.
Simply recognising this necessity is not, however, enough to provide convincing and, above all, sustainable answers to the energy policy challenges of the near future. What is needed is a new German policy with regard to the Gulf region. The magic formula is clear: diversification. After all, it is not only Germany, but the entire Gulf – in particular, heavyweight Saudi Arabia – that is looking for partners!
This should be the starting point for a new German policy towards the Gulf monarchies: all the Gulf states need German expertise, not only for the diversification of their own economic systems, but also for the realisation of gigantic modernisation projects. A clear admission of Germany's own economic interests would likely prove very effective.
This approach need not conflict with the inevitable search for common ground and Germany's "commitment to a rules-based international order". It is simply more credible than the usual pious utterances about human rights one hears bandied about in the capitals of Europe.
© Qantara.de 2022